The 'What Are You Bringing?' Podcast Feels Like A Chat With Your Besties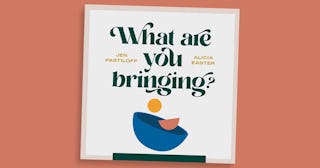 What Are You Bringing?
It seems like a fairly simple question, but it can contain a multitude of meanings. What are you bringing to your life? To your relationships? But also, what are you bringing to the table, literally and figuratively? There's a new podcast, "What Are You Bringing?" hosted by Jen Pastiloff and Alicia "Ace" Easter, that delves into all of these questions.
The podcast focuses on things like authenticity, mental health, vulnerability, and all of the other things that make up our messy, complicated, joyful lives. And as they delve into all of these topics, they do it with a unique blend of humor and honesty. Scary Mommy was lucky enough to talk to Jen and Ace via Zoom to get the dish on their friendship and the inspiration behind the podcast.
One of the best things about "What Are You Bringing?" is that Jen and Ace are very clearly open to sharing their own experiences, and learning from them. But they don't do it alone, and that makes it even better. Guests so far include author Elizabeth Gilbert, "Grey's Anatomy" showrunner Krista Vernoff, and Erin Brockovich. In part one of the Elizabeth Gilbert episodes, they talk about the power in saying no, and about how unnatural it feels to say it — especially for women. Gilbert is candid when she explains that it took time and work to get to that point. In each episode, you feel like you're listening to a group of friends talk, but they're giving you a seat next to them. I'm not typically a podcast person, but I found myself working through the episodes and wanting to hear more.
So where did "What Are You Bringing" come from? Early in the pandemic, Jen and Ace were spending a lot of time together (they were in a pod). "We were making a lot of videos and having shenanigans, and people were going wild for it," Jen explains. As the fans' enthusiasm grew exponentially, the best friends realized that maybe there was a way to give the people what they wanted. If you listen to the podcast, you can hear and feel the deep friendship that these two have for each other. Their chemistry is through the roof, and they have a way of making you immediately feel welcome. After talking to them for five minutes, I desperately wanted to be the third-wheel friend.
The podcast's formation came during the uprising of the Black Lives Matter movement this summer. During that time, especially because of the stay-at-home orders in many cities, people were being forced to sit with themselves and do a lot of self-reflection. "There are a lot of podcasts out there," Ace said. "But our relationship has been organic since the first time we met ten years ago." And theirs is a unique blend of "letting love lead the way, loving people, kindness and loving ourselves," according to Ace. "The thing that people really responded to is that we're always laughing and joyful," Jen adds. "People watch us and they feel joyful and they laugh their asses off, but we go really deep. It's best friends talking with their new best friends about everything. We don't shy away from anything, but we bring the levity."
And it's true. In "What Are You Bringing," nothing is off the table. That's why it works so well. Because in one episode they can go from talking about the benefits of slippers vs. socks, and the next minute they're talking about Ace's "morning masturbation" shirt. Since Jen is a mother (she has a four-year-old son) and Ace lost her mother as a teen, the concept of motherhood finds its way into the conversation. It never feels forced, but sometimes it's anecdotal. The seemingly-abrupt conversation switches don't mean chaos — it just follows the natural flow of conversation and keeps you engaged. Like I said, Jen, Ace and producer Aviv have excellent chemistry. It really does feel like you're listening to best friends talking, and at the same time, it feels like they're talking directly to you as well. After listening to one episode, I felt like I knew them both.
Jen and Ace made it clear that there would be no "What Are You Bringing" if it wasn't for the pandemic. "I was living on an airplane," Jen said. "I had no rhythm in my life because I was always traveling." She shared that at the beginning of the stay-at-home orders, her entire life came to a halt. Because so much of her work focuses on her in-person events, it took her time to figure out how to pivot what she does in a new way.
"It's a soft place to land," Jen says. "It's this thing I look forward to every week where not only do I get to hang out with people that I admire and love, but I learn shit constantly."
For Ace, being at home was fun at first, but as a self-proclaimed extrovert, it was challenging. "The pandemic has definitely shaped my perspective on what matters," she adds. "I felt like this was my time to say 'I'm free!' and I struggled. I missed my people." She adds that if it weren't for the pandemic she would have also come up with reasons not to do "What Are You Bringing" — one being money. But the pandemic was just a part of a series of events that led her to saying yes to herself. Saying yes meant leaving her corporate job, starting a candle line, and teaming up with Jen for the podcast.
Of course, I had to ask the hosts of "What Are You Bringing" what they're bringing to the table, and they definitely didn't disappoint. "I'm bringing my superpowers. I am utterly myself," Jen said. "That doesn't mean that I tell everyone everything, but I don't have anything to hide. There's nothing I'm carrying shame over. If you don't like it, okay, bye. And then there's my ability to make people feel safe." As she pointed out, it's her ability to be her complete self that immediately makes people feel safe.
For Ace, "I'm bringing joy to the table," she said. "And I'm bringing my ability to show up. I'm also bringing the ability to admit when I don't know. I admit when I need help, and admit when I say I am scared. And I'm bringing my resilience."
You can find "What Are You Bringing" wherever you listen to podcasts.
This article was originally published on