What Def Leppard Taught Me About Fatherhood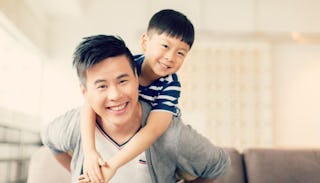 Andrew Rich / iStock
Def Leppard's first album, High 'n' Dry, was my absolute, hands-down favorite record in middle school. There is no embarrassment in that statement. I feel no shame. In fact, I will freely admit that the record is still in my rotation today.
I can understand why others might feel queasy about employing Def Leppard and "favorite" in the same sentence. After all, Def Leppard did devolve into a clichéd hair metal band and mid-wifed the regrettable genre of pop-metal. But High 'n' Dry was before all that, before the obsession with naming albums after pathological disorders with an ia-suffix (Pyromania, Hysteria), before "Pour Some Sugar on Me," before drummer Rick Allen lost an arm but continued drumming. High 'n' Dry was pure rock 'n' roll, and I loved it.
I loved that it was loud. Before High 'n' Dry, I mostly listened to bands like Journey and Styx. High 'n' Dry was a different animal. The record's very first distortion-filled guitar riff was a literal wake-up call, commanding me to get out of bed, grab something heavy and start smashing things—but in a lyrical way. The record ushered me into a new world of musical expression, one with more edge, rawness and power.
I also loved the album's lyrics. They were shocking to my preteen ears. In the title track, lead singer Joe Elliott brags that he's been drinking all day, that he's got his whiskey, his wine and his woman, that "this time the lights are going out," because it's Saturday night and he's high. Wow, is all that kosher? Should somebody be calling the cops? This was no Journey lovestruck power ballad. It was primal and dangerous. I didn't cross any lines in playing air guitar and screaming along, but I felt like I had.
Growing up in New York City, I went to a lot of great concerts. Pretty much every band I cared about came to town, but not Def Leppard. There was a time in the early to mid-1980s when I would have happily traded my Clash, U2 and Replacements tickets for a Def Leppard ticket (I am embarrassed by that statement). Def Leppard was the white whale.
So perhaps it is not surprising that when my wife and I were driving the 101 this summer near Paso Robles, California, and saw a billboard advertising Def Leppard at the California Mid-State Fair the next night, I nearly drove off the road. I entered a type of dream state, incredulous that I might finally scratch the itch I'd had since middle school.
The stars were clearly aligned. We were staying in Paso Robles that night, and although we were planning to drive home to the Bay Area the next day, we didn't have to. Our son was off at sleepaway camp, my wife is an academic in full command of her summer schedule, and while I would miss a day of work, what better excuse could there be? (For the avoidance of doubt, it is a rhetorical question).
And spontaneity was in the air. With our son temporarily out of the picture, my wife and I had regressed to our pre-child lives, saying yes unequivocally to dinner invites without hedging based on babysitter availability and even meeting up for weeknight movies. Once I stopped tearing up at the sight of random boys walking down the street with their dads, it was bliss. There was nothing to hold us back from eating corn dogs, riding the Ferris wheel and seeing Def Leppard rock the Mid-State Fair.
But we didn't. When we woke up the next morning, the feeling was gone, evaporated like cotton candy on the tongue. Something was holding me back. Like the famous scene in Animal House, Middle School Me was on one shoulder telling me to live freely and in the moment, while Adult Me was on the other shoulder reminding me that I had a job, that festivals scare me and that Tesla was the opening act.
Although Adult Me had the better arguments, I couldn't shake the feeling that I was giving up something I really wanted to do. It was a feeling that, as a father, I have had many times. In fact, since my son was born, I have come to attribute much of what I've "given up" to the exigencies of being a father. As novelist Rich Cohen puts it, when you become a parent, you are no longer the sole protagonist in your own life drama. You are now just part of the cast, part of the ensemble, and you must temper your wants accordingly.
But the decision to bail on Def Leppard was not a sacrificial offering to fatherhood. The pressure I felt was not of parenthood, but of adulthood. These days, I need a good reason to stay up late (and not just because my son exhausts me). That was Middle School Me doing a double-take at the freeway billboard. Adult Me didn't want to miss a workout due to a late night or burn through a vacation day just to see a once favorite band decades past their prime.
While in the immediate aftermath of the decision I mourned the loss of Middle School Me, it was liberating to realize that fatherhood isn't holding me back. That's an excuse. The fact is, if I want to do something badly enough, I still can, notwithstanding my parenting status. It turns out that seeing Def Leppard just doesn't mean that much to me anymore.
This article was originally published on