This Is What The Heartbreak Of Child Loss Looks Like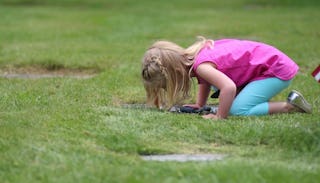 Shayna Raphael
Child loss can take many forms.
It's been lying in bed all day or hearing a song on the radio that brings you to tears. Child loss has been sitting by her marker at the cemetery singing to her or waking up in the middle of the night thinking you hear her crying for you.
Child loss has been finding one of her pacifiers in a box and hiding it again somewhere else because you don't want anyone to touch it. It means having Tupperware and Ziplock bags neatly lined up in the bottom drawer in your nightstand. Inside the bags you have the pajamas she slept in the night before she died, and the sheets you pulled off her mattress, hoping that one day you'll take them out and they might still smell like her. It's being too afraid to ever actually open up those Ziplock bags for fear of being broken when they don't smell like her.
Child loss means seeing other children who are the age she should be and fighting the jealousy you have of their moms. It's meeting another little girl with her name and getting so upset. It's seeing parents ignore their children or complain about them and wanting to scream and shake them and tell them to be grateful.
Child loss is looking over at your husband and seeing tears form in his eyes when you talk about her. Child loss is knowing others are walking on eggshells around you, so they won't upset you or bring you heartache. Child loss is talking about her whenever you can with other people and ending up with heartache because of it. It's feeling guilty when you buy something for your living child and not for the one you lost. It's then turning around and buying something you can bring to her grave.
Child loss is not being able to drive on a certain road because you went that way when you raced to the hospital. It's not being able to look at the history of ordered items on your grocery app because it is in alphabetical order and one of the first things that pop up are her favorite jars of food. It's not buying certain prints of diapers for your youngest because those were her diapers. It's seeing a baby who looks so much like her and trying hard not to stare.
Child loss is trying to put together a slideshow and write an obituary when you still aren't quite sure what's happened. It's a small box being lowered into the ground. It's the sound of your own sobs as people speak about your child in past tense. It's a flood of cards and messages and hands grasping to lift you up, when you want to be let go.
Tonight, child loss was holding my 5-year-old daughter as she came running in, while I was taking a bath, with tears streaming down her face. It was trying not to cry as she wailed for her sister and told you how much she missed her. Child loss is grieving for more than just you. It's parenting and loss and heartache and memories and longing for what should have been.
It is the worst thing I'll ever experience, but it looks like something you would do all over again, for a moment with your child.
This article was originally published on