My Best Friend Ghosted Me, And This Is How I Finally Got Over The Pain
by Erin Salem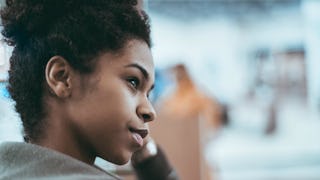 skyNext/Getty
Recently, I was listening to an audio class taught by my sweet Kundalini yoga teacher and she said to her students, "Go where you are wanted." It stopped me in my tracks. Folding my husband's boxers on the bed in our room, I stopped, set the boxers down, pressed pause on my phone, and repeated that phrase to myself.
"Go where you are wanted."
It's been 5 years since I've been separated and divorced from my first husband. We have done a stellar job rebuilding a new relationship, a co-parenting relationship, that I believe could win awards. (And I do believe there should be awards for co-parenting.)
What I lost in my divorce was my best friend, Karen. She was my blonde twin, my sister from another mister, the truest and most authentic friend I'd had in my life to date. Karen felt very torn between my ex-husband and me during our divorce, and in the end it seemed that she chose him.
This was more devastating than my divorce.
I spent a long time wishing and praying for Karen to come back into my life. So nearly a year after our divorce, I reached out to her. It was just a text message, but it took courage summoned from my toes to send it. I didn't know if she hated me or if she missed me or if she even really thought about me anymore.
To my utter relief, she replied.
Our exchange was brief and kind. She even used one of our old "just us" jokes, and I felt so close to her.
I waited 6 months to hear from her again.
When she did get back in touch, it was to tell me that she was sorry my dog had run away. I guess someone told her what happened. My dog was back by this point so I told her thank you and filled her in. That was it. There was no more after that.
I missed her so much. I missed my friend. I thought about her almost everyday.
A year later, my gynecologist found a lump in my left breast. I was completely terrified. Several friends took me out to dinner to hold me and feed me beer while I panicked and cried. I texted Karen after a few of those beers, somehow hoping my fear of having breast cancer would inspire her to be my friend again.
By this point, I'd been remarried for several months. Kind, handsome, and supportive Ryan was there for me throughout the process of mammograms, ultrasounds, and an ultimate "all clear" diagnosis. He held my hand and wiped my tears. I was covered, surrounded, and loved.
But I still missed my friend.
It was almost another year later when she reached out to me. Karen reached out to me. I was overjoyed. I couldn't wait to catch up with her. We had an hour-long phone conversation and it was just like old times. She told me she loved me and I told her I loved her back. We were getting this friendship back on track and it was all that I wished for.
The next day, giddy over our re-connection, I texted her pictures of my wedding from the year before. Karen was a bridesmaid in my first wedding 10 years prior and my second wedding felt empty without her, so I wanted to catch her up. She replied with hearts and then sent me pictures of her new dog. We were making jokes and giggling and everything felt amazing. "My friend is back," I told my husband.
That was 2 years ago, and it was the last time I heard from her. I feel a stinging pang of sadness every time I think of the last text message I sent her that received no reply.
Until I heard the words, "Go where you are wanted." It stung me for years until this moment. Until the day I was folding my husband's boxers on the bed and I heard the antidote to the sting. "Go where you are wanted."
How often, I suddenly realized, I have spent time knocking on the doors of those who don't want me, trying to convince them I'm worth it. Years I've spent worried, wondering what I might be able to do to make myself valuable enough for their attention.
Family members.
Friends from high school.
People at work.
Holy cow, I've never been a person lacking friends and love. And yet those people who love me have gently stood in the wings waiting for me to finish standing onstage before those who don't love me, tap dancing my ass off in hopes that one of them might clap.
It is perfectly okay for people to not like you, to not want to be friends with you. There's no need to be angry at them for not liking you. It's just their opinion. But for some reason, our human selves find it important to prove that everyone can and will like us instead of something far easier — letting those who already love us love us!
It is not selfish to go where you are wanted, either. It is self-love and self-care to allow the people who love you to love you hard, and to gently release those who don't without sewing their feelings about you to your Girl Scout Sash on the way out.
I have not reached out to my friend again and, at this point, I never will. She is not a friend anymore, anyway. My friends are here. My husband is here. I can see where I am wanted with more and more clarity everyday. And I have less and less interest in those who do not want me.
Go where you are wanted, my friend. Take a look around and starting noticing who is really rooting for you and go there. It is the juice of life. It is the sweetness of life. And it is where you were meant to be: square in the middle of love.
This article was originally published on