What I Want My Son To Know About #MeToo
by Lindsay Veremis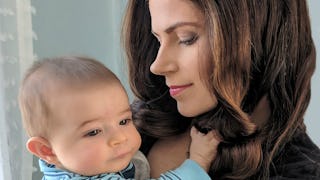 Lindsay Veremis
Why is it okay that there is an entire sisterhood of broadcast journalists who have been trained—as a matter of career survival—to numb themselves to offensive, questionable behavior? Why do we tell ourselves being uncomfortable, objectified, or sexually harassed in person or online is just "part of the job"?
It shouldn't be commonplace for your station orientation to include a gift of pepper spray and warning about the "crazy guy" you must steer clear of. I'm sick of shrugging, rolling my eyes and moving on. In fact, the #MeToo movement has made me realize I'm part of the problem. If I fail to identify or confront immoral behavior, I am making it acceptable.
When I look at my baby boy, I am determined to raise him to be polite, kind and respectful of women. I want him to know we're strong and independent; that we will speak up for ourselves and one another. However, I also know he's growing up in a world filled with temptation and bad examples. Between the landmines of sexual content on social media and easily accessible pornography, he will be exposed to a barrage of messages running counter to my goals.
So today, I'm forgetting my fears of "overreacting" and making a pledge to talk about the issues surrounding #MeToo.
I'll begin right here.
Later, when he's old enough, when he asks or the opportunity arises; we will have these conversations. Will they be uncomfortable? Sure. However, I believe teen boys need to hear about sexual harassment from the person they trust most. I certainly hope it's me. Moreover, if he ever finds himself victimized or in an uncomfortable situation, he needs to know I'm listening and it's okay to speak up.
During my decade in TV news, I've been fortunate to have avoided the worst forms of harassment. Many other women I've worked with have not been so lucky. They've been forced to file restraining orders, call the police, or request station intervention after receiving 50+ (sometimes more) disturbing emails per day. Did you know local TV anchors are one of the most stalked populations? It's an unintended consequence of our efforts to appear approachable and warm. This piece from Psychology Today explains it well.
Making frequent reference to my marriage helped me dodge most attacks. I was "taken" and, therefore, of less interest. That said, I want my son to understand non-criminal harassment behaviors are also damaging and could be a gateway to more serious offenses.
Yes, I'm in the public eye. But when I post a #ThrowbackThursday photo from my collegiate cheerleading days, it doesn't give you the right to send me an explicit message detailing what you'd like me to do in your bedroom while wearing that outfit. When I turn my back and walk away after interviewing you, calling out "nice ass" or "nice rack" isn't a compliment. And no, I'm not going to "fulfill your sexual desires" by taking off my high heels to send you a picture of my feet.
Harassment is even happening in the most public of places.
I asked some of my fellow broadcasters to recount their experiences. Out of respect for their privacy and that of their viewers, I won't be their sharing names, only their stories. One recalled a man cornering her aggressively at a local business expo.
"He was so close to me I can still remember the heat of his breath on my cheek," she said. "He proceeded to tell me he enjoys watching me and likes to imagine me in a geisha outfit naked in his hotel bed. As I politely thanked him and tried to get away, he gripped my arm locking me in place to continue describing his strange fantasy."
Another encounter happened at a charity benefit for a domestic violence shelter. She had volunteered for the dunk tank on a very chilly day. Thinking ahead, the meteorologist choose her clothing carefully, opting for black, multiple layers and a very padded bra.
"A middle aged gentleman came up to me as I was getting ready to get in the tank and said… 'Hey girl, can't wait to see you wet. I am going to make you wet and you can't hide it with the black,'" she said. "I was absolutely mortified. I wanted to leave right that moment, but I had made a commitment."
It's no better online. "Silent" harassment through social media is rampant in broadcasting. Sadly, I have plenty of examples too profane to include here. Female broadcasters are under attack daily doing our jobs. Don't like the media? That's fine, but you can express that opinion without calling me a bitch, slut, whore or…(you get the idea). I want my son to know a computer screen is not a cloak of invisibility, nor does not give you pass on personal decency and decorum.
If you wouldn't say it to my face, don't say it via email or social media.
It's important to point out the vast majority of viewers I've interacted with have been nothing but wonderful. I consider them friends and have even stayed in touch with many of them after moving. Unfortunately, bad apples ruin the bunch—and we're letting them.
"Being a television personality, we are expected to be polite and agreeable," one of my former co-workers explained. "Anything someone says or does to us, we are just expected to smile back."
#MeToo has us reconsidering. There is strength in numbers. We're bolder, wiser and willing to defend ourselves during a verbal onslaught.
"Some days I still just smile and nod," another journalist said. "But lately, if someone says something offensive to me—especially in person—I often respond like myself, not as my television persona. It shocks them."
I sincerely hope this empowerment continues. It's time to stop shrugging off our collective experiences, even the small things. If we pretend harassment doesn't happen, if we ignore it, we are perpetuating the cycle.
So my dear son, no matter what society tells you, remember this…
The people you see on TV have feelings.
Compliments come from a place of kindness, not lust.
No matter what a woman is wearing, she is never "asking for it."
The best way to start a conversation is a warm hello or genuine question.
If you're unsure how a comment will be perceived, you probably shouldn't say it.
If something in your gut warns you about a situation, trust your intuition.
When in doubt, ask your mother. I love you and will always tell you the truth.
This article was originally published on