My Husband Was A Devoted Dad, Husband And Psychologist--And We Lost Him To Suicide
by Megan Minifie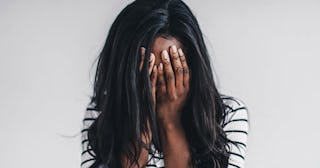 Matthew Henry/Burst
When my son was born in 2016, I thought that my world had changed forever. And, as anyone who is a parent knows, it had. My identity, my primary responsibility in life had shifted, and I felt it was for the better. Becoming a mother was simultaneously the greatest gift and the most life altering event I had yet to experience in my 30 years on this planet. Luckily, my husband agreed. So, despite our initial postpartum struggles, we decided just two years after our son was born to try, with the help of God, to create another tiny human. Our daughter was born 27 months following the birth of our son.
Looking back, my pregnancy with my son and his highly dramatic entrance into the world were even more impactful than I realized. As someone with a graduate degree in school psychology who is well-versed in mental health and who has sought therapy for years, I was well aware that I have a genetic predisposition to anxiety and occasional bouts of depression. Yet it wasn't until my daughter was born that I had to look at myself in the mirror and realize that although I could survive the postpartum anxiety that followed my son's birth with medication alone, I wasn't going to be able to survive the postpartum depression and suicidal ideation that followed my daughter's birth without the help of qualified professionals. By the time our daughter was eight months old, I was under the care of both a clinical psychologist and psychiatrist, attending weekly therapy to address my struggles with anxiety and depression.
Here's the thing — I was married to one of those professionals: a clinical psychologist with a doctorate in psychology who had delved deeply into his own mental health following a history of childhood trauma and subsequent depression. Yet expertise does not equal immunity. He too needed help navigating the major stressors that followed his wife's difficult pregnancies, deliveries, and breastfeeding struggles. A colicky infant, lack of sleep, an increase in financial responsibilities, and a lack of time devoted strictly to taking care of himself weighed on him heavily. And although my husband adored his children with all of his heart and loved being their father, he often commented about the loss of time he had to spend with just me. We were constantly in the midst of being torn between our love for our children, our need for self-care, and the limited time and resources we could devote to our marriage.
When my husband experienced a very traumatic physical assault while at work just three months prior to the birth of our daughter, instead of seeking the help he needed, he stayed quiet. He put all of his effort and energy into loving and taking care of his family and his patients the best he could — it is what I believe he felt he was supposed to do as a husband, as a father, and as a mental health practitioner. He worked hard to build a successful private practice that would enable our family to live the life we dreamed of.
Tragically, however, his inability to devote time to self-care and his own mental health resulted in a dependency on alcohol. On May 25th, 2019 — just one month before his 33rd birthday — my husband's dependency on alcohol, combined with untreated trauma and delusional ideations, took his life in the form of suicide.
My life, my children's lives, our life as we knew it was swept out from underneath us, bringing us to our knees. We were devastated. We were heartbroken. We were in shock.
How could I have not seen this coming? How could I have let this happen? How could he let this happen? I am a school psychologist; he was a clinical psychologist!
Despite the tremendous guilt that I have felt surrounding my husband's suicide, the trauma that accompanied my grief presented significant challenges in the days and months that immediately followed. A community of people rushed to be by our side, caring for my children, my dog, and me as we attempted to recover from the horrific night we lost our husband/daddy and get back on our feet. My trust in people, however, was completely broken. If the one person who I loved and trusted the most could leave us in the way that he did, how could I trust a stranger? How could I even trust myself, not having been able to see this coming, and not having been able to protect myself and my children and our families from such unbearable heartache?
To say that the healing journey since that night has been challenging would be a huge understatement — and it is, of course, an ongoing work in progress. Yet I am finding that sometimes you have to lose yourself in order to find yourself again. Sometimes you have to stay on your knees knowing that God's plan for your life is bigger and better than anything you ever imagined.
Through my healing, I have found three things to be true:
1. It takes courage to be your truest, most authentic self, but life is too short to be anything but that. We are all just a moment away from being completely changed forever. We have to embrace our vulnerabilities in order to save one another. Everyone has a story. All we have to do is listen.
2. In my life, faith is the only way forward. Although I was angry at first with God, I know He has a plan for me and for my children that is far better than anything I could ever dream of. I also know that He sends me "winks" — sometimes in the form of people, and sometimes in the form of mystical objects like a rainbow — that allow me to feel connected to His presence, to my husband's spirit, and to Heaven.
3. There is always hope for better days ahead. We heal in communities. Surround yourself with the people in your life who consistently show up, and eventually you will learn to trust again. Your story is not over yet. Mine certainly isn't.
If you or someone you know is experiencing suicidal thoughts or struggling with addiction, please seek help. Don't try to go it alone.
Suicide Prevention Hotline 24/7: 1-800-273-8255
This article was originally published on