What My Mom Taught Me About Running
by Abigail Beshkin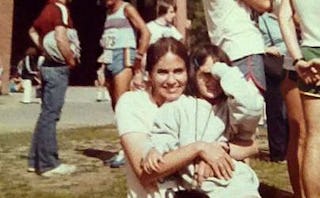 After a few months, we ran a 5K together. It was fun enough, but the best part was that onlookers handed you water as you jogged by and you could dump it over your head. What can I say? I was 9. But this story doesn't end with my becoming a track star or a marathoner or, really, any kind of athlete. In fact, I don't remember us running again after that race, because much as my mom might have wished, I never caught the running bug.
But my mom had it bad. She had joined the running craze of the '70s. Jim Fixx's 1977 bestseller, The Complete Book of Running, sat in a place of honor on my parents' dresser. By age 6 or 7, I knew the names of Boston Marathon winners Bill Rodgers and Joan Benoit. No one in the Boston area, as far as my mom could tell, sold women's running shoes. So she'd go to the New Balance outlet, and the salespeople would point her to the boys' section, where she'd buy a size four and a half. We spent Sundays at races. My dad and I would stand near the finish line, his camera poised. When he saw my mom, he'd point—"Look, there she is!"— and I'd wave and jump up and down while he snapped away.
© Courtesy Abigail Beshkin
In the beginning, the races attracted so few women that my mother, who was never fast, would sometimes take home ginormous trophies, simply because she'd come in first or second among a handful of women in her age group.
I've only recently started to think about aging, and I somehow find myself shocked that it's happening to me. My mother has never really talked about it—never looked ruefully in the mirror, over-examined a wrinkle or despaired at a gray hair. Things ache now, especially my knees, and I'm on the cusp of needing reading glasses. A couple years ago, she took me to Ireland for my 40th birthday, and we walked several miles every day. We kept perfect pace with each other—except that I'm 32 years younger, and I was relieved I could keep up with her.
Having been partly raised among elderly Jews, I know better than to jinx health or beauty. As I write this, I am simultaneously knocking on wood, spitting three times in rapid succession, and screaming away the evil eye. I also know that health is not something we ultimately control. But it occurs to me that those scientists who say exercising can keep you healthy—and looking young—might be onto something. Because my mom, who's been running since before they sold women's running shoes—she looks good. I mean damn good. She regularly gets carded when she asks for senior-citizen discounts.
© Courtesy Abigail Beshkin
Now in her 70s, she still runs a popular Boston all-women's race every year, the Tufts 10K. It used to be called the Bonne Bell race, and runners got goodie bags with Lip Smackers. (Remember those?) Even as she approaches 74, she doesn't say, "Am I too old to do this?" Well, sometimes she does, but her answer is always a resounding "No."
Races are more high-tech than they once were. My dad no longer stands at the finish line and snaps pictures; there are companies that do that now and post the pictures online, where you can buy your image framed, or on a T-shirt or a mug. When my mom likes the way she looks, she sometimes buys the mug version of herself, and when I visit, I get to drink coffee and see the picture of my mom sweaty, determined and smiling, finishing her yearly 10K.
Decades after she first taught me to run, I think I finally get it: Maybe it's best not to think too much about getting old and just keep running.
This article was originally published on