Traditional Back-To-School Activities Can Be Hard For Many Kids
by Amber Leventry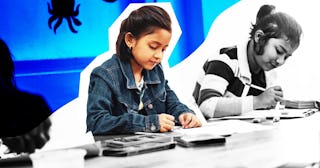 Pragyan Bezbaruah/Pexels
I have several teacher friends posting pictures of their fresh, newly decorated, and ready-to-go classrooms. A new school year means new opportunities for personal and professional growth; it's also exciting to welcome in new students and the families who accompany them. While a familiarity with each student is ideal, getting to know them can be tough. My own children's teachers usually send letters or emails a few weeks before school starts. They check in, see how the summer is going, and offer details of their own summer. They ask questions to try to create a dialogue and positive dynamic before my kids walk into the classroom. Some teachers open the first few days of school with ice breakers centered on family. But these questions or back-to-school activities may cause more harm than good.
An Instagram post by Colleen Wilkinson encouraged and reminded teachers to think about how they are approaching new students. Wilkinson is a speaker and consultant and provides professional development for trauma-informed education.
"Does your content and curriculum consider the emotional health of your students? Or does it inflict educational trauma on your students?"
Asking a student what they did over the summer may trigger flashbacks and the student may not have anything positive to share. Asking a student about their family tree may require the student to reveal something out of the heteronormative that may not be accepted as "normal." It may also remind students of a family dynamic that includes divorce or death. Requesting baby or family photos from the student makes an assumption that a child has access to family photos, and that they can afford or have the means to have them printed. Children in foster care or who have been adopted likely have limited information about their family history and the people who were part of their creation, but not their life.
Teachers are under a lot of pressure to play roles well beyond that of educator. They are providers of supplies and snacks. They are eyes and ears against bullies. They are protectors against active shooters and threats against the school. They are disciplinarians with varying degrees of strictness, depending on the individual needs of the student. Teachers offer safe spaces and consistency for kids who can't find either at home. Some students will head back to school this fall having experienced a traumatic event. The event may have just occurred, or perhaps the pain from old wounds is still fresh.
The unfortunate truth is that one in four children attending school has been exposed to a traumatic event that can affect learning and influence their behavior. These events include, but are not limited to, loss of a loved one through death or abandonment, divorce of parents, experiencing and/or witnessing violence and abuse, experiencing a natural disaster, and living in chaotic or insecure housing.
2.5 million children in America are homeless, according to the National Center for Family Homelessness. 50 percent of those kids are under the age of six. These numbers mean that 1 in 30 kids living in the United States do not have a place to call home, at least not a permanent one. Food insecurity is a sad reality for our kids too. Yes, our kids. The needs of a child who are at the mercy of imperfect parents or a flawed system need a village of people to support them. I can't look away from a suffering child and declare it is not my responsibility to help. I know teachers are often put in this position too.
Teachers want what is best for their students. You may say it's not up to teachers to rearrange their way of teaching or their curriculum for just one student, but every child deserves the right to a safe and comfortable environment. They need to have access to a positive learning experience that doesn't further trigger events that are currently happening or that have happened in the past. And to be clear, this needs to happen year-round, not just during back-to-school events. Holidays, Mother's and Father's Day, and other school events that may force a child to face an unwanted memory or reality of a situation they don't have control over need to be adjusted to be sure everyone feels included and safe.
A trauma-informed classroom needs to be part of a trauma-informed school, and ongoing, easy to access training needs to be available for faculty and staff. I am not proposing this won't take time and practice, but open lines of communication with a constant goal of mindfulness of the emotions of others will help teachers and staff build the one-on-one relationships that are critical for students. An awareness of the language used and the activities suggested in the classroom is the first step.
In her Instagram post, Wilkinson reminds educators that, "We can create healthy positive environments that build resilience and relationships by first doing no harm."
Part of being a trauma-informed teacher is to know harm, when done, presents in different ways for different students. Spacing out, acting out, an inability to focus, anxiety, and even bullying can be signs of trauma; the root of the behavior needs to be taken into account, not simply the behavior itself.
Teachers can create trauma-informed classrooms by building trusting relationships with their students through empathy, active listening and collaborative problem-solving. This leads to a reduction of outbursts, classroom disruptions, and bullying. A more peaceful classroom improves a student's performance and a teacher's sense of satisfaction and safety.
On top of adequate training, some teachers may need buy-in. Lindsey Mattingly, a teacher in Nashville, TN, is part of a school that engages in restorative circles so that teachers can share their classroom experiences around trauma-informed teaching. She says the results are powerful: "When teachers fully understand trauma and its manifestations, the mindset will shift from one more thing to do to THE thing we must do."
Yes. I know it can be a lot, but thank you, teachers. You are doing so much for our kids.
This article was originally published on