What The Hell Is Hygge, And Will It Make Winter Less Awful?
by Christine Organ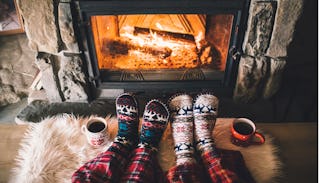 AlexMaster / Shutterstock
I try to be an optimistic, glass-half-full person. Really, I do. But I'll be honest, I freaking hate winter. Which is kind of a problem because I live outside of Chicago, and it can get pretty cold in my neck of the woods. Not just see-your-breath cold, but snot-freezing-to-your-face cold. For four or five months out of the year, it's cold and windy, and it's dark as hell for half the day.
And while I hate winter under the best of circumstances, this year I loathe it. Whether it's the fact that we got several inches of snow on Halloween (Halloween!), or due to a minor case of seasonal affective disorder, this winter already feels pretty brutal.
Since a move to Florida or Arizona isn't in the cards and it's impossible to time travel to April, it looks like I— and anyone who doesn't live in a San Deigo-esque climate — will need to suck it up and muscle through the next five months. But how?
A while ago, I read about a concept called "hygge" as a way to cozy your way through winter. Hygge, it seems, is about self-care, gratitude, and simple comforts. Casual dinners at home with friends. Soft blankets. Candles. Warm socks. Snickerdoodles fresh out of the oven. The word "snickerdoodle."
Immediately, this Nordic-tradition-turned-hipster trend appealed to the introvert in me because it basically makes it acceptable to stay home, hunker down, and avoid the outside world.
But what the hell is hygge, really, and could it actually make winter less awful?
Well, according to Time magazine, hygge — pronounced most commonly as "hoo-gah," is a lifestyle that "embraces positivity and enjoyment of everyday experiences." Positivity? Yes, please. Considering the dumpster fire that is the world these days, I think we could all use a little positivity. Embracing the everyday? That would also be a hell yes. Given the emotional drain of life sometimes and the chaos of the holidays, I'm more than ready to embrace the everyday. Oh, who am I kidding? I'm too lazy to do anything more extravagant than the "everyday." Hell, the word's pronunciation alone — hoo-gah, hoooooo-gaaaahhhh — is pretty fun to say.
Although the concept has been a Nordic tradition for centuries, it recently began catching on in the UK and in the States, either because of the hipster trend that made bushy beards and tartan fabrics chic or due to the sheer desperation of millions of other people who, like me, are desperate to make winter a little less awful. In fact, hygge is now so en vogue that there are more than 5 million #hygge posts on Instagram, and it was shortlisted for the 2016 Oxford Dictionary Word of the Year (ironically the word chosen was "post-truth," which might be the reason we need hygge so much right now).
Smart people who have studied hygge (yes, there are actually people who are hygge experts) point to deeper psychological reasons for the hygge movement. "People are feeling very nervous about the future, and feel a deep primal need to start looking after themselves," Signe Johansen, author of How to Hygge: The Secrets of Nordic Living, told Time. "We can't control outside events, but we can control ourselves – hygge is about savouring that and not getting drawn in to the maelstrom of craziness that's going on in the world"
Although hygge is more a lifestyle than a product, that hasn't stopped capitalists from using the cozy concept as a means to make a buck. Time reports that at least nine books were published on the subject in the UK this fall, and several leading retailers are hawking wares designed to appeal to the cozy cabin-dwellers, with everything from beauty products and candles to mulled wine and essential oils marketed to the hipster hygge crowd.
Me? I'm too old and cheap for high-maintenance hygge. I just want some warm socks, a lavender-scented candle, and an excuse to stay home in my pajamas. That alone is enough to make me want to hygge my ass all the way to spring.
Maybe winter won't be so bad after all.
This article was originally published on