What These Teens Are Doing For Homeless Vets Who Die Alone Will Make Your Heart Explode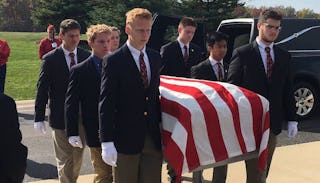 Veterans are the ultimate heroes, but you might be surprised to learn many of them never get a proper funeral. To remedy that, a group of high school boys has found a beautiful way to honor their sacrifices.
Teens at the all-boys University of Detroit Jesuit High School are signing up to be a part of a unique volunteer program that allows them to serve as pallbearers for homeless veterans. The service is part of the Dignity Memorial Network's Homeless Veterans Program, which provides funeral services to homeless vets who wouldn't otherwise receive a funeral service.
If a veteran's family can't be located for 90 days after their death, the program provides them with a casket. Usually, there's no service and no one to carry the casket, but now these teens have changed that.
According to Good Housekeeping, the first funerals involving the teens were held earlier this month after more than 50 students signed up to take part. Even more people — including non-students — have signed up to help for the month of November after seeing these amazing kids.
The teens tell Good Housekeeping they feel like serving as pallbearers is a simple way to honor these veterans and "offer a final tribute to a person's life journey." Said one of the volunteers, "I know that these people had loved ones, and whether or not these loved ones could be there to say goodbye, it does not change the fact that everyone deserves a proper burial."
It's a sad fact that here in the United States, we don't do a very good job taking care of our veterans. The National Coalition For Homeless Veterans (NCHV) reports approximately 49,933 veterans are homeless on any given night. They account for about 12 percent of the entire U.S. homeless population, and many of them suffer from mental illness and/or substance abuse problems. Even worse, the number of homeless veterans is steadily increasing.
To truly address the problem, it will likely take large scale efforts by people, businesses, and politicians. Veterans need jobs, they need places to live, they need affordable medical care, and they need programs in place to address their needs. Not only are these teens performing a valuable service in giving back to those who have sacrificed so much, but they're also raising awareness about the impact homelessness has on the veteran community and how we can help.
Veterans deserve our admiration and respect, and it's so powerful to see these teens honoring them in their final moments and laying them to rest. If anything, it should inspire all of us to do more to make these veterans' lives better while they're still with us.
For a list of veteran burial programs in your area and other ways to help, visit NCHV.org.
This article was originally published on