The West Coast Is Burning, And We Need Your Help
by Clint Edwards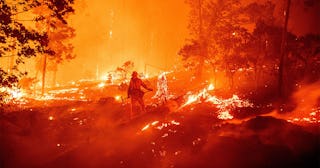 JOSH EDELSON/Getty
On Labor Day, I took my six-year-old daughter to Foster Lake, a reservoir in the woods about 20 minutes from my home, to go swimming. We both got a little sunburned. It was close to 90 degrees, unusually hot and sunny for September in Oregon. We went to get ice cream after, and as I got Aspen into the tub, it seemed like the perfect end to summer.
But by the time I got her out of the tub, the sun was gone, and replaced with heavy, thick smoke. My wife and I stepped outside, along with many of our neighbors, and at first it looked like it was snowing. But it wasn't snow. It was ash.
I have to say, it was pretty alarming how quickly things turned here in Oregon. I live in Lebanon, and our small rural Oregon town is surrounded by fires. Towns I know well, some of them I ride my bike to, have been evacuated. Others, like Detroit, Oregon, a wonderful town where I used to do a mud run each year, have been completely decimated.
Two days after the smoke rolled in, my wife Mel and I went to the Albany, Oregon fairgrounds to donate some Home Depot gift cards to families who had been displaced. Ash was still falling from the sky, and the air was so thick with smoke it was hard to walk outside without getting nauseous. As we drove through the fairgrounds parking lot, there were dozens of families living in what felt like a small shanty town. Many had campers, but many didn't. There was one family in particular that appeared to be living out of a horse trailer; a man in his early 60s, with a gray beard and an Oregon State University ball cap, was on the phone. He was crying, and it broke my heart.
As we donated the gift cards, the volunteers at the fairgrounds thanked us, and then mentioned some of the things they needed. Tents for families was at the top of the list. Tents. For families.
To be frank, it's been heartbreaking here in Oregon. My wife and I have been pretty nervous, waiting for an evacuation notice, or for our power to go out, or to get one more text from friends who have been evacuated from their homes, and had to drive across state lines to live with family.
What hasn't often been discussed is exactly how bad the air quality is right now. According to my weather app, it changes between "hazardous" and "very hazardous," and after spending months at home due to the pandemic, I don't think I'd realized how much I enjoyed the small luxury of just being able to walk around my neighborhood. But right now, I can't even make it to the end of the street without getting light headed.
Fire crews are working around the clock. Many are overwhelmed. According to Oregon Live, wildfires have burned more than 1 million acres statewide, spanning from the southern border to the coast and Clackamas County. At least eight people have died statewide, 50 are unaccounted for, and hundreds are reeling from lost homes. More than 40,000 have been forced to leave their homes. Authorities went as far as saying nobody should be outside. And a National Weather Service meteorologist said the state still has several days of smoke-filled air to come.
California and Washington are not faring much better than Oregon. According to CNN, California wildfires have burned an area almost the size of Connecticut. Nearly 16,500 firefighters have been battling 28 major wildfires in the state, which have left 24 people dead and over 4,200 structures destroyed.
People are struggling here, but there are a number of ways to help. A recent CNN article outlined a number of organizations accepting donations and offering aid.
According to the article, one of the larger nonprofits helping out right now is the Red Cross. Their volunteers are working in all three states providing meals, health services, comfort and other support for affected residents. The organization is accepting donations and looking to enlist thousands of volunteers to help during wildfire season.
The United Way of Northern California, Whitman County and Jackson County are providing emergency cash grants to those who have lost their homes, and they are also accepting donations.
The Salvation Army is assisting across all three states. The organization is providing food, hydration, emotional support for first responders, evacuees and survivors.
The Wildland Firefighter Foundation provides financial support to families of those who died or were injured in the line of duty while fighting fires.
Oregon Live is also bringing attention to couple of great ways to contribute. Oregon Business and Industry launched a fund with the Oregon Business Council and the Oregon State Chamber of Commerce to support Oregonians who have been displaced, and more than 60 verified fundraisers have been started for Oregon residents across the state who have been affected by the fires. All of them have been added to GoFundMe's centralized hub.
Listen, I speak as someone who is currently living in this — and it's not good. It's tragic, actually, and having these fires come on the heels of a ranging pandemic is easily the most 2020 thing to ever happen.
It's been a hell of a year already, people. And these fires couldn't have come at a worse time. We desperately need your help.