Why We Should Be Asking 'WWKRD'
by Christine Organ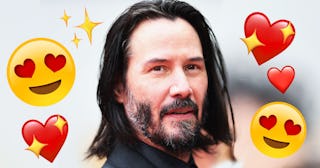 Scary Mommy and VALERIE MACON/Getty
We could all use a little inspiration and motivation from time to time. Some look for spiritual guidance, others read self-help books. Some of us look to mentors or celebrities. And some of us are looking everywhere, always, because we need all the damn help we can get.
But maybe all we need is a new motto: WWKRD. What would Keanu Reeves do?
That's right, Keanu Reeves is the answer.
For those of us raised in the '80s and '90s, it's hard not to associate Keanu Reeves with the the delightful stoner from movies like Parenthood or Bill and Ted's Excellent Adventure or the bad ass action hero in Speed, but these days Reeves is experiencing a sort of second coming. Or maybe he's still in his first coming, because he is just that good. And not just as an actor, but as a human. As Naomi Fry wrote in an article titled "Keanu Reeves is too good for this world" (and, for the record, I concur), "the Internet has recently provided us with an unlikely antidote to everything wrong with the news cycle: the actor Keanu Reeves."
Take, for instance, his response when Stephen Colbert asked him, "What do you think happens when we die?" His response, after a brief but slightly brooding pause, was so poignant that it was almost poetic: "I know that the ones who love us will miss us."
Standing in contrast to his wise and pragmatic spirituality is his ability to not take himself too seriously. He played himself — well, the public's perception of who we think he is — to perfection in "Always Be My Maybe."
He is down-to-earth and unpretentious and kind. Amidst all of the toxic masculinity, Keanu Reeves is a goddamn gentlemen. Of course, an abled-body person giving up their seat on public transit for someone else shouldn't be noteworthy, yet here we are.
And holy shit, Keanu Reeves even keeps his damn hands to himself.
Not to mention that in this day and age of social media overshares, Reeves is a master of privacy. Though we do love us some Chrissy Teigen TMI tweets, he captivates us with his ability to keep his private life … well, private. Maybe we don't need to announce to the world what we had for breakfast and we'll be okay?
So what's not to love? He's kind, respectful, insightful, with a heaping side of humility to boot.
We might not have his good looks, his celebrity status or his busting-at-the-seams bank account, but dammit, we could all stand to bring a little more Keanu Reeves into our lives. So instead of reading a mountain of self-help books or going into debt for a spiritual retreat, maybe our motto should just be: WWKRD? What would Keanu Reeves do?
This article was originally published on