What You Should Know About LGBTQ History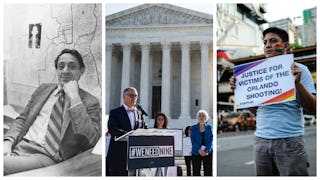 LEFT: Bettman/Contributor/Getty; CENTER: ZachGibson/Stringer/Getty; RIGHT: DondiTawatao/Stringer/Getty
I couldn't be queerer if I tried. I am proud. I am out. Being queer is as much a part of who I am as the color of my eyes or my handedness.
Every June I celebrate Pride, a month to reflect on the 1969 Stonewall riots that happened in Manhattan after the Stonewall Inn—a gay bar and what was supposed to have been a safe haven for the gay community—was raided by police. The fight back by members of the LGBT community spurred the Gay Liberation Movement. Marches organized, and a unified front formed that would bloom into what we know Pride to be today.
Parades, parties, concerts, and so many other demonstrations of unity take place to gain acceptance—self and societal. But miles of rainbows and glitter and assless chaps would not be possible without the Stonewall moments in history.
We celebrate LGBTQ History all October. It's a time to celebrate the queer people and the landmark events that have woven their way into our country's narrative. Here's what you should know about queer history and why you should want to know.
1. LGBTQ History Month coincides with National Coming Out Day on October 11th.
The first Coming Out Day happened in 1988, and is considered to be one of the most powerful yet tangible, forms of activism one could do to create visibility and reduce the stigma around queer people. The founders of the day believed that intolerance of and hatred for gay people grow and spread in silence. Normalizing queer people and our relationships happens much easier if we are seen. While not everyone can come out for reasons of safety, risk of discrimination and job loss, or internal strife, the day is still a reminder that LGBTQ people are everywhere — we have always been here, and we aren't going to go away.
2. Harvey Milk was the first openly gay elected politician in California.
He was assassinated in 1978 for his sexuality and for passing a gay rights ordinance in San Francisco. He paved the way for other gay and transgender politicians like Tammy Baldwin (Wisconsin Representative), Danica Roem (Virginia House of Delegates) and Christine Hallquist (Vermont Governor nominee). In order for laws guaranteeing LGBTQ equality to be passed, LGBTQ friendly leaders need to be in situations of power.
3. Matthew Shepard was a gay 21-year-old who was pistol whipped, tortured and left to die in a field in Laramie, Wyoming in 1998.
One of the killers claimed it was homosexual rage that caused him to commit murder after Shepard allegedly made sexual advances toward him. As senseless and heinous as Matthew's murder was, it shined a spotlight on hate crime legislation. Almost 20 years after the crime, the United States Congress passed the Matthew Shepard and James Byrd Jr. Hate Crimes Prevention Act. James Byrd Jr. was a black man killed by three white supremacists. On October 28, 2009, President Barack Obama signed the legislation into law. The new bill added to an existing federal hate crime law to include crimes influenced or motivated by a victim's gender, sexual orientation, gender identity, or disability.
4. Brandon Teena was a 21-year-old transgender male who was beaten and gang raped when men discovered he was transgender.
The discovery came after an arrest where his birth name and assigned gender were written in a police report. Teenas's girlfriend asked him to report the assault to police despite the attackers' threat of murder. The killers learned of the report and immediately found Teena and shot and stabbed him to death. The police officer on the case refused to have the killers arrested due to the lack of evidence.
The killing of transgender people has not stopped. In fact, the murder of transgender women, especially women of color, is on the rise, though accurate statistics are hard to report because of the constant and disrespectful way journalists and law enforcement misgender and deadname victims. Shame and stigma continue to add to the discrimination and death of transgender men, women, and nonbinary folks.
5. The 49 people killed and 53 injured in the mass shooting at the Pulse nightclub in Orlando are part of LGBTQ history too.
They are part of American history. This and all of the acts of violence that have stained the hearts of so many have also stained the hands of our society. LGBTQ history is all of our history. Every American should be ashamed for the way queer people have been treated. But I know they are not.
6. There were no queer judges on the panel when the Supreme Court ruled to legalize same-sex marriage in 2015.
But President Obama acknowledged that small acts of courage "slowly made an entire country realize that love is love." When you are queer, sometimes just getting out of bed is an act of courage.
We still have a long, long way to go, but the civil rights victories the LGBTQ community have gained to help us live productive and safe lives have come from the brave and iconic out people who demanded to be seen. I wrote the word "safe" in the last sentence. For queer people, there is always a risk of danger, always a sense that we are not entirely safe. I am not putting you or anyone else in harm's way by living my life, but I am in harm's way just by existing. The pioneers who came before me were targets too. They didn't always set out to change history, but celebrating LGBTQ history month means acknowledging the forward progress and protection that has come at a tremendous cost.
Not every out athlete, artist, writer, business owner, and politician and everyone in between has been physically injured or killed. But every one of us have had to prove our worth. We have had to bear the brunt of verbal abuse, career losses, and negative publicity simply because the way we love and identify does not meet other people's definition of "normal." Straight, cisgender people are the baseline to which we should compare all others, and the further we stray from that baseline, the higher the potential price to pay.
The cost is fear and courage. It is knowing I have stood for what is right, even when so many tell me I am wrong. Being different, being queer is the fabric from which I am made. LGBTQ history is a part of America's fabric too. We need to talk about all civil rights movements. We need to celebrate all moguls, lawmakers, musicians, and artists if we are to show every brick with which our country has been built. Ignoring or erasing LGBTQ history erases the people who fought for job security, parental rights, and marriage equality.
Celebrating LGBTQ history will help us not to repeat past mistakes. It will help us continue to affect positive change without the added violence and hate. It will allow us to let love win before bigotry kills us. It will allow our queer youth — yes, your kids too because there is a good chance your child will identify as part of the LGBTQ rainbow — to live safe and free lives.
If you want to know more about LGBTQ History Month and the people who made a lasting impression on the civil rights movement, check out the Equality Forum website.
This article was originally published on