Police Forcibly Remove Protesters With Disabilities From Senate Healthcare Hearing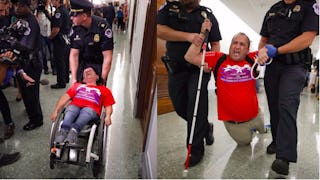 Images via Chip Somodevilla/Getty Images
The senate hearing on the Graham-Cassidy bill attracted several protesters with disabilities
Protesters, many in wheelchairs, were forcibly removed from today's senate Finance Committee hearing on the Graham-Cassidy bill, the latest GOP-led effort to repeal and replace Obamacare, the nation's 2010 health law. The footage and photos are beyond disturbing and just another horrifying reminder that this is where we live now. A country where citizens with disabilities have to beg for health coverage.
According to ABC News, protesters started lining up as early as 5:00 am to make their feelings on the proposed healthcare bill known. Not that the politicians in the session were willing to listen.
"If you want a hearing — if you want a hearing, you better shut up," Senator Orrin Hatch, R-Utah, said before adjourning the session until protesters could be cleared out.
Which is exactly what police did, causing some people to slide out of their wheelchairs as law enforcement removed them from the hearing.
Sen. Hatch also cruelly accused protesters of "showboating" for the assembled media.
The bill, authored by Sens. Lindsey Graham of South Carolina and Bill Cassidy of Louisiana, fortunately has yet to move any "no" votes over to a yes, and according to Politico, it looks like it's already doomed to fail. Hatch said, "Well, I wish 'em luck. But I'm not convinced they have much of a chance."
But as long as the bill is still on the floor, people are protesting it. Those assembled can be heard shouting, "No cuts to Medicaid! Save our liberty!" as officers pull them away from the scene, one by one.
The senators reportedly left the room the hearing was in while the protesters were taken away so they wouldn't have to watch. It looks like even spineless politicians who are doing all they can to take healthcare from those who need it most don't enjoy actually seeing the people their cruel policies would doom to die.
Some protesters, like Mike Oxford of the group ADAPT, have been arrested countless times as they fight to retain health coverage for those who rely on Medicaid for their extensive medical needs.
Law enforcement lined the halls before the hearing even began.
They had plastic handcuffs ready in anticipation of having to restrain and arrest protesters. Protesters, many in wheelchairs.
Despite being told there was only room for seven wheelchairs in the hearing, the protesters continued to chant, "Access is a human right" outside the room.
This entire situation should make every single American nauseous.
Because this isn't about a difference in political ideology — this is a matter of life and death for our country's most vulnerable citizens. And what could be more American than protecting and caring for those who need our help?
If the people who live here have to beg their leadership to let them live, how can we call ourselves the "greatest country in the world?"
Sadly, this is where we live now. And we should be ashamed.
This article was originally published on