When Your Kids Have Outgrown A Toy-Filled Christmas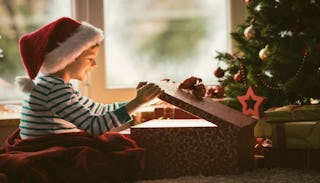 iStock
They overflowed into my mailbox this week. All the holiday toy catalogs arrived right on time, waiting to be flipped open and gazed upon by my little guys. Every year, they would curl up beside me, their small hands tightly squeezing black markers circling all the things, or cutting out pictures of all the toys they want for Christmas this year. Then, excitedly, they would shove the list and clippings into an envelope addressed to Santa Claus.
But this year, there are no little guys left in my house, and the pile of shiny toy catalogs filled with racetracks, remote control cars, transforming superheroes, and plush Darth Vaders will promptly be tossed right into the recycling bin, never seeing the light of day or the sugar plum wishes of small boys. Sigh.
My kids have finally outgrown the toy catalogs, and dammit, I don't like it one single bit. Sadly, my days of playing Santa Claus have officially come to an end, those years of endless toy shopping coming to a halt faster than Comet and Blitzen flying through the sky on a clear night.
To deal with this new reality, I'm gonna need someone to bring me a spiked egg nog or a grandchild. Both will work.
Nowadays, their Christmas lists are full of things I cannot find at Toys"R"Us — or in Target's gender-neutral toy aisle for that matter. Instead of hitting Black Friday sales for one of the latest Lego sets or the newest scooter, I'll be schlepping it to the big box outdoor sportsman store, searching for a cooler with a name similar to Bigfoot that evidently can keep ice cold for months. (Who in the hell is going camping for that long?) Then, I'll be headed for the grooming aisle at the local drug store, buying male headbands and body cologne. Just how many varieties of AXE spray does one really need? Hell, I even offered to update their aging video gaming system, to which I got a lazy reply of, "Nah, we're good. We don't want to have to get all new games and relearn controls." What?!
I know I should be happy they don't spend much time playing video games anymore, but it's a stark reminder that little boys do in fact grow up, and spending hours building gold cities in Minecraft just doesn't do it for them anymore. I just want to yell, "Stop growing up and go play because the real world sucks! Minecraft 4eva!"
I'll admit, there is a tiny part of me that is happy to have the Christmas Eve all-nighter toy assembly fiasco in my rearview mirror, along with the simultaneous binge purchasing of AAA batteries. I won't soon miss the beeping, honking, roaring, and singing cacophony of plastic bright red, blue, and yellow toys, or the constant searches for tiny missing game pieces and lost dice.
I will, however, miss seeing the unbridled joy on my kids' faces as they run into the living room Christmas morning to see what new toys Santa left. I will miss watching them tear through superhero-covered wrapping paper to find the toy they had been begging for, and their beaming smiles as they say, "How did Santa know?" I'll miss the all-day toy-playing fest, where they go from one to the next to the next, and insist on taking their new toys with them to Grandma's house so they can keep playing, surrounded by cousins and all their new toys.
This new normal of older children during the holiday season does have its perks. I love not being woken up by overexcited kids at 4:30 a.m. on Christmas morning, and I adore having teens who can drive and who can run endless holiday errands for me, and who are responsible enough to be handed my debit card with directions to "just go shop for your dad and brothers for me, will ya?"
I love that the season seems a bit slower and maybe a tad more peaceful without little feet scurrying around asking me daily, "How many days left until Santa comes?" So I'll take these next few years of quiet coziness with tweens and older young adults, cash-only filled stockings, and gifting "family experiences" instead of trains and planes. And I won't feel guilty about embracing the chance to finally enjoy a more relaxed Christmas.
I know it won't be long until the next round of toy mania begins. Lord help them, but my grandchildren won't know what hit them.
This article was originally published on