These Whimsical Woodsman Photos Will Make You Happy
by Maria Guido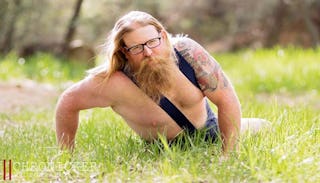 Dudeoir photos are all the rage, and The Whimsical Woodsman is the newest installment
2016 is the year of the sexy "dudeoir" photoshoot, and we couldn't be happier about it.
It seems we can't get enough of bearded men running around in their underwear. Another photographer tackled the "dudeoir" genre this month, and the resulting images are being made into a calendar to benefit a nonprofit that gives comfort to kids in crisis.
Photographer Chad Castigliano of Chronicker Photography took his friend Tim into the woods for a good cause. The two had a photoshoot which will be made into a calendar with part of the proceeds going to Books to the Rescue. Books to the Rescue helps first responders limit the emotional impact of adverse childhood experiences by providing books and toys "so they may serve as engagement while adults are being interviewed in scary situations." The nonprofit was started by Castigliano's wife, Jasmine. "Even if a first responder doesn't have a background in social work or early childhood development, it takes essentially no training to sit down with a child and read a book," Jasmine tells Scary Mommy. "This opens the door for relationship building, calming the stress response, a more open interview, and limiting the impact of emotional trauma."
Castigliano and friend decided to don some tools and head into the forest to help Jasmine with her amazing cause. The results, as you can imagine, are awesome. So awesome, in fact, Tim now has a public persona: The Whimsical Woodsman.
"I've worked with kids with traumatic histories in one way or another for the last twenty years," Jasmine, a teacher with a background in children's behavioral health says. "After the first decade or so I got tired of trying to help heal the damage after the fact." She started Books to the Rescue in Yavapai County, Arizona — a place she says has a high population of kids in need and is the largest county in the state.
Fun pictures, great cause, and it looks like dudeoir photos aren't going anywhere any time soon. You can purchase The Whimsical Woodsman calendar or autographed 8×10 photo here. A third of the proceeds from the calendar will go directly to Books to the Rescue.
This article was originally published on