The Little Girl In This Viral Dance Rehearsal Video Is All Of Us In Exercise Class
by Maria Guido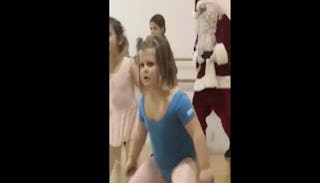 Little girl's Whip/Nae Nae dance goes viral
A little girl's dance recital has gone viral because she managed to upstage Santa and remind us all how we feel in every group exercise class we've ever been to.
Natalie Rose Shevsky uploaded the video of her daughter Elyse doing the Whip/Nae Nae dance with Santa at their local dance studio in Michigan. Little Elyse has taken the internet by storm because she is all of us.
Watch:
Dying.
She's me in every group exercise class I've ever taken. The thoughts in my head usually go something like this:
Gotta warm up.
I think I'm doing it!
I am soooo good at this!
Maybe I should take up dancing professionally.
Why is everyone else doing something different?
Okay, I actually hate this class.
The video's been viewed over 14 million times in the last week. Little Elyse reminds us it's not the perfect choreography that counts… it's the enthusiasm.
Get it, girl.