Small Steps White Parents Can Take To Help Fight Racism In School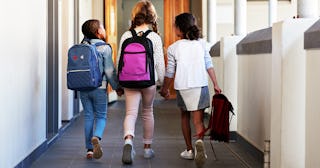 Klaus Vedfelt/Getty
After decades of Black folks' experiences being overlooked, we're finally making some progress towards acknowledging the complexities of the Black experience. It's worth noting that the newfound levels of awareness wasn't given to us — it was and is hard fought — and we're still regularly misrepresented. It's the result of a persistent effort to keep pushing in a society that overlooks our worth — and moves on the fumes of visibility given by social media and a growing number of Black-led media companies.
Parenting while Black is hard, as any Black parent will tell you. But a growing body of research shows the way racial bias impacts our children too. And it's all so damn disheartening. Not surprisingly, racism and white supremacist systems play a huge role in education. So if you're a white parent who feels compelled to support Black and other parents of color (and you all should be), here are a few small steps you can take to help fight racism in schools.
1. Self-Assessment
This is first for a reason. You need to ask yourself a ton of questions. Why am I interested in doing this work? Am I making sure to put the experiences of people of color above my own discomfort? How can I play a role in reducing bias without overshadowing the experiences of the communities that are already doing the work?
We don't need any more white saviors. Asking questions is the first of many steps toward intentional allyship. And you can't have a possible impact without answering these questions first.
2. RESEARCH and Resist
There's an overwhelming about of data related to implicit bias and racism, especially related to youth. Before you start doing anything, you need to know the numbers so you can question the patterns when they appear.
Some quick stats to get started with are school policies, like dress codes that disproportionately lead to consequences for Black and brown students, the unequal rates of excessive discipline and suspensions across race and gender, racially-biased standardized testing, and the school to prison pipeline.
But it's worth noting that racism in school goes so much further than formal discipline. It's making assumptions about Black youth and their families, thinking Black kids need to be over- or under-handled when compared to students of other races, and just making school downright uncomfortable. All of these things make it harder for students of color to succeed and thrive in our modern education system.
One of the best methods of seeing what children of color face in pursuit of an education is to listen to the experiences of youth and parents of color. And when you see those policies that unfairly impact youth of color, challenge them.
Spoiler: We're not all the same, and have different experiences.
3. Look For Ways To Participate Without Overshadowing
Before you can fight injustice, you have to start with the basics. I know, I know. You're filled with such righteous indignation that you just have to step in and say something when you feel you're witnessing injustice. But it's vital that you don't drift into white savior territory. Believe it or not, Black parents aren't helpless. We've been fighting the good fight, by force, since our ancestors were dragged to this country.
Despite your intentions, don't be the white parent who calls a meeting with school superintendents to educate the masses on racism before checking in with the needs of parents of color first — of course, if you're a white parent of Black kids you have a little more wiggle room.
There's so much we're already doing to fight for ourselves. And if you want to join, there's a way to do it without stepping on others' toes. Chances are, there are organizations for Black and other POC in your areas who are already doing much of the work. When in doubt, ask them what capacity would be most helpful for you to serve. Examples of these sort of resources include: National Child Development Institute (NBCDI) and EmbraceRace. Don't forget old school organizations like the NAACP.
On a related note, check in with parents of color before assuming how a particular action makes them feel.
4. Leaning Into Racial Discomfort And Being Willing To "Check" White Folks
Aiming for inclusivity is the baseline, but what we really need to be is anti-racist. Regardless of what event gets your wheels turning, be mindful of the audience for your concerns. It's not the marginalized community that you need to lament to about your concerns. It's those in power and the school boards who develop the policies. And most often that's white folks.
As a white ally, it's non-negotiable to get accustomed to confronting white folks when they're off base. All while trying to make sure you're not off base as well. Remember, even if you are a parent of children of color, discussions about racism don't center around you.
5. Educate Your Children On Our Nation's History
And last but certainly not least, making sure your children are exposed to opportunities to increase their understanding of race. Chances are, there will be many uncomfortable moments when talking to kids about race — children often see complicated things as simple — but the long-term impact on their ability to understand themselves as well as others is invaluable.
One of the most powerful things you can do as a white parent is raising the next generation of anti-racist youth. That way, when they see these things happening in their schools, they will question them and tell an adult.
It's also vital to point out that parents of color, especially Black ones, might not be trusting at first. And some might not trust you ever. The United States has a long legacy of uplifting whiteness while exploiting the Black American experience. There's a long history of distrust, after all. The systems we're talking about fighting were created and reinforced by white people.
But that doesn't mean we're hopeless. It just means you'll have to work that much harder. Still, our society needs you. After all, we can't end racial bias without white people.
This article was originally published on