The White House Had A Halloween Party And The Photos Are Amazing
by Maria Guido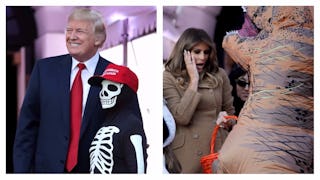 Images via Chip Somodevilla/Getty Images
The White House Halloween party pics come with a hilarious side of 'WTF?'
Donald and Melania held some Halloween festivities at the White House yesterday. Some 6,000 adults and children showed up to celebrate. Donald dressed as himself, and it was terrifying. Melania dressed as a woman who can stand to be near her husband for five minutes. And the visitors either dressed as adorable kids in costume or props for their MAGA-loving parents.
All in all, it was surreal. Seriously, it was. Here are some pictures.
The end is nigh, Donald.
"Oh my God! He really is orange! Like, really orange. I thought you were all kidding!"
Melania has to feign terror here, because she is so used to dealing with an orange beast with a big head and tiny hands.
Oh look! These two dressed as "Death of a presidency" and "Dark spot in the history of our country."
Smile like you're not the worst adults on the planet!
This member of the cabinet just dressed up as "Literally stab me in the face I can't be associated with this administration anymore."
Can't you just let the White House have a little fun!? No. No, I cannot. As long as the White House is inhabited by a president who makes light of white supremacy, lies daily, harasses and insults women, and refuses to be up front about his taxes and income — he will continue to be fodder for jokes. Sorry! Life is fair like that.
And now… caption contest!
This article was originally published on