Melania Unveils White House Christmas Decorations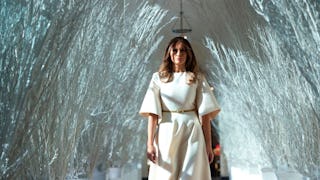 Image via SAUL LOEB/AFP/Getty Images
Melania Trump and a staff of volunteers outfitted the White House for the holiday season
The White House has been decorated for the holiday season with first lady Melania Trump at the helm, and no matter what first family occupies the space, we can all gawk at the stunningly opulent scene that is our nation's capital at Christmas.
That said, we have some observations.
We can't completely harsh Melania's buzz, because overall, the White House holiday decor is really something. Just look at it, glittered up and stately, and try not to get choked up at the majesty of it all.
Melania and a massive crew of volunteers got the place gussied up for the season, and we have to say — most of it's pretty amazing.
From the exterior of the actual White House, adorned with the first lady's "signature" wreaths on every window….
…to its miniature ginger bread version on display in the State Dining Room, made with 350 pounds of dough. And you thought that $8 piece of shit from Target that you spent three painful hours assembling with your overtired preschooler was rough.
Every detail was thought of.
Although the East Wing looks like the Upside Down when the lights are darkened…..
…it's pretty ethereal in the light of day when graced by the first lady herself, resplendent in some kind of angel dress and slim gold belt.
But oh, the darkness. Seriously, where's the Demogorgon and is it going to eat Melania?
Hot take; maybe we shouldn't let kids join in on the East Wing portion of the White House tour until this whole business has been cleared out.
Things got a little more festive and slightly less terrifying with the arrival of a live-action ballet performed for the first lady as she stands awkwardly by and observes.
Things definitely got a little weird as Melania didn't know what to do with her hands while ballet broke out literally all over the Grand Foyer. Which is apparently a thing that happens at the White House around the holidays and isn't at all completely strange.
Melania, I feel you girl. I would've busted out in a nervous sweat at the mere expectation of having to feign surprise and delight at the sight of professional ballet dancers prancing around my home.
Melania continued her little swing through the Grand Foyer, which is my favorite foyer in any home, really. She's looking very breezy and casual and not at all positioned unnaturally in the exact middle of two columns while a ballerina squats in the background.
In a statement Melania said, "As with many families across the country, holiday traditions are very important to us. I hope when visiting the People's House this year, visitors will get a sense of being home for the holidays."
While our home might not include surprise ballet, scary hallways, and giant gingerbread replicas, it definitely includes family, love, and a shitload of tinsel.
Mission accomplished, Melania.
This article was originally published on