The White House Details Plans To Vaccinate 28 Million Kids Ages 5-11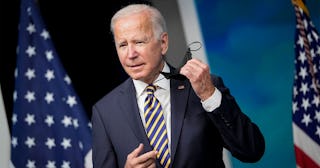 Drew Angerer/Getty
The Biden White House is preparing to roll out the COVID-19 vaccine to children ages 5-11 pending approval from the FDA and CDC
American parents of kids ages 5-11 are a little closer each day to when they'll be able to get their children vaccinated — and hopefully breathe a tiny sigh of relief after many months of worry. Today we have another update after a White House briefing on the planned rollout for Pfizer's COVID-19 vaccine for this age group. There are detailed plans in place for the expected authorization of the shot and according to the White House, 28 million kids will soon be able to get the shot at their doctor's office, pharmacies, or even their schools.
A statement from the White House today reads, "In anticipation of the FDA's independent advisory committee meeting on October 26 and the CDC's independent advisory committee meeting on November 2-3, today the Biden Administration is announcing a plan to ensure that, if a vaccine is authorized for children ages 5-11, it is quickly distributed and made conveniently and equitably available to families across the country."
"We will be ready to get shots in arms," said President Joe Biden's COVID-19 response coordinator, Jeff Zients during a briefing on Wednesday where the rollout of shots for children ages 5-11 was discussed in detail.
"The administration will work with states and local partners to make vaccination sites available at schools and other trusted community-based sites across the country," read the statement. "The Administration, through the Federal Emergency Management Agency (FEMA), is providing full funding to states to support vaccination operations and outreach – including setting up sites, procuring equipment and supplies to store and administer the vaccine, providing transportation to and from vaccination sites, and communicating with the public, such as through in-person community engagement, call center support, public service announcements, and translation services."
Additionally, the statement details the Administration's efforts to work with pharmacies, pediatrician's offices, schools, children's hospitals, and community health centers in order to ensure equitable access to all eligible kids.
"The Administration's plan will mobilize a comprehensive effort across the public and private sectors to ensure that we have the supply, the sites, and the support needed to get our nation's children vaccinated and protected against the virus," the White House said.
The planned rollout, pending approval, will mean that many kids could be fully vaccinated before the December holidays, easing some of the stress and worry experienced by families eager to get their young children protected. So far, millions of kids ages 12-17 have been safely vaccinated and it's an incredible relief knowing we're moving toward the next age group.
Here's hoping the 2021 holiday season looks a bit more hopeful than 2020 with both adults and kids able to be protected against COVID-19.