Civil Rights, Climate Change, And LGBT Pages Disappear From White House Website
by Valerie Williams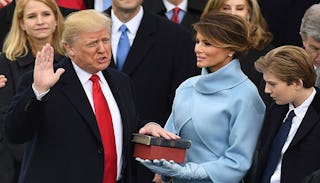 Image via Mark Ralston/AFP/Getty Images
Well, this is disturbing
Mere hours after Donald Trump took the oath of office as our 45th president (God help us all), the White House website underwent some swift and incredibly worrying changes.
Esquire points out that after the Trump administration took over WhiteHouse.gov earlier today, some items were removed from the "Issues" tab that lived there during the Obama years.
Here's the old version:
Civil Rights, Climate Change and Health Care all used to occupy prime real estate, as they should. But now? A thing of the past.
Here's the new version:
As far as climate change, the Trump team isn't so concerned. Here's the wording under the new "America First Energy Plan" tab:
"President Trump is committed to eliminating harmful and unnecessary policies such as the Climate Action Plan and the Waters of the U.S. Rule. Lifting these restrictions will greatly help American workers, increasing wages by more than $30 billion over the next 7 years."
So, at least with the final decades we have left on this planet we'll have a lot of money. Yay?
Also gone is the entire LGBT page. The old version:
And the new, non-existent version:
The same disappearing act goes for both the Civil Rights and Health Care tabs.
It's understandable that a new administration would bring about change and have its own priorities, but the issues removed from the website aren't partisan, or at least, they shouldn't be. Everyone should want a healthy planet, a healthy populace, civil rights and support for the LGBT community. If Donald Trump wants to unify the nation, he'd do well to respect the fact that the issues he's so cavalierly trying to wipe from existence are ones that matter deeply to millions.
For any skeptics wanting to give him a chance, this is not a great start.
This article was originally published on