White Man Calls Cops On Black Mom For Using Her Neighborhood Pool
by Jerriann Sullivan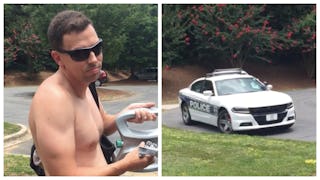 Image via Facebook/Jasmine Edwards
White man calls cops on his black neighbor for using neighborhood pool
A white man from Winston-Salem, North Carolina called the police on a black mom who was using her neighborhood pool with her child this week.
The incident has gone viral and serves as a great reminder that white people need to stop calling the police on people of color who are just living their lives. Every week there are countless examples of white people calling the cops on people of color for no good reason. Just. Stop.
Jasmine Edwards was at her neighborhood pool with her son when fellow neighborhood resident Adam Bloom demanded she show him her identification. Like most people who walk to their neighborhood pool from their house, Edwards didn't have her ID on her. She just had what she needed to get into the gated pool: her access card that lets community members into the pool.
This wasn't enough for Bloom so he did the exact wrong thing in this situation and called the police. Following the encounter, Edwards uploaded a video to Facebook of most of the encounter with Bloom and the police who responded to his call. "This is a classic case of racial profiling in my half a million $$ neighborhood pool," she wrote. "This happened to me and my baby today."
According to Edwards, she was the only person at the pool who was asked to show ID. "Nobody else was asked their ID. I feel this is racial profiling; I am the only black person here with my son in the pool," she is heard saying in the video, which has 4.6 million views and is continuing to go viral.
To clarify, Bloom had no right to demand to see Edwards' ID and no reason to call the police simply because she didn't have it on her — the police, the neighborhood's homeowners association, and even Bloom's employer all agreed that Bloom should have left Edwards and her child alone.
Folks on Twitter agree, and have even given him the nickname #IDAdam.
"There's a keycard to the door to get into the pool," Karam Gulkham, a lifeguard manager for the pool told the Winston-Salem Journal. "Apparently it was not enough for him. I don't know why he felt it wasn't enough."
In the video, Edwards explains to the police officers that she has her pool keycard and Bloom says "OK, let's validate that it works, then," as if moms have nothing better to do than make fake keycards for pools. And even after her card works, Bloom still has the balls to imply the card doesn't belong to Edwards. "They kind of make their way around sometimes… but that's good enough for me today," he is heard saying in the video. Oh, WHEW. THANK GOD.
The police officers told Bloom that Edwards keycard was enough proof that she had access to the neighborhood pool. Bloom refused to apologize for his actions — shocking.
Calls for Bloom to be fired from his job were posted all over social media following the incident and were met.
The company Bloom worked for, Sonoco, let people know he was fired. "The well-documented incident, which involves activities at a neighborhood pool over the 4th of July, does not reflect the core values of our Company, and the employee involved is no longer employed by the company in any respect," the company said. "On behalf of our more than 20,000 teammates around the world, we extend our sincerest apologies to all who have been hurt by this incident, especially Ms. Edwards and her family."
Bloom also resigned from as pool chairman and board member from the homeowners association. "We sincerely regret that an incident occurred yesterday at our community pool that left neighbors feeling racially profiled," the association said. "In confronting and calling the police on one of our neighbors, the pool chair escalated a situation in a way that does not reflect the inclusive values Glenridge seeks to uphold as a community."