WHO And CDC Can't Agree On Whether Pregnant People Should Get COVID Vaccine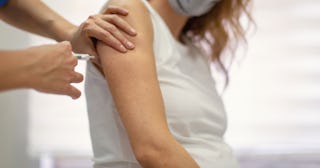 NoSystem images/Getty
Pregnant people everywhere are left wondering, "to vaccinate or not to vaccinate?"
As COVID-19 vaccinations are rolling out nationwide in varying phases, pregnant people everywhere are left wondering if they should receive the vaccine. Currently, the World Health Organization and the Centers for Disease Control and Prevention are offering different recommendations, leaving pregnant people wondering what the correct answer is.
The Centers for Disease Control and Prevention have issued interim guidelines that state if pregnant people are eligible for a COVID-19 vaccine, "they may choose to be vaccinated."
Not a lot of data exists regarding the safety of the COVID-19 vaccine and pregnant people, but the CDC reports that no safety concerns were demonstrated in rats that received the Moderna vaccine prior to gestation or during.
"Studies in pregnant people are planned and the vaccine manufacturers are following outcomes in people in the clinical trials who became pregnant," the CDC says. "Based on current knowledge, experts believe that mRNA vaccines are unlikely to pose a risk to the pregnant person or the fetus because mRNA vaccines are not live vaccines."
The WHO, on the other hand, says the Moderna vaccine is "not recommended" for pregnant people, according to their latest news release on the subject.
"While pregnancy puts women at a higher risk of severe COVID-19, the use of this vaccine in pregnant women is currently not recommended, unless they are at risk of high exposure (e.g. health workers)," the release states.
This presents additional stress to those who are already pregnant during a pandemic, which is stressful enough. Though the WHO and CDC aren't in agreement about the vaccine just yet, the American College of Obstetricians and Gynecologists and the Society for Maternal-Fetal Medicine have been clear that pregnant women who have access to the COVID-19 vaccines should get it.
ACOG believes the two COVID-19 vaccines are about as safe and effective for pregnant people as they are for anyone else. ACOG did acknowledge that without hard data, "the potential risks to a pregnant individual and the fetus are unknown." The group has lobbied to have pregnant people included in Phase 3 clinical trials, and while that didn't happen, there are trials planned for pregnant individuals in the future.
The risk of a severe case of COVID-19 is statistically low for individuals of childbearing age, but studies have suggested that a COVID-19 patient who is pregnant is more likely to be admitted to a hospital's intensive care unit, more likely to require a ventilator, and more likely to die of the disease.
The LA Times reports about 1% of pregnant people in the U.S. have required ICU care for COVID-19, and out of every 1,000 pregnant people who develop COVID-19, 1.5 have died.