W.H.O: Vaccinated Should Still Wear Masks To Protect Against Delta Variant
by Madison Vanderberg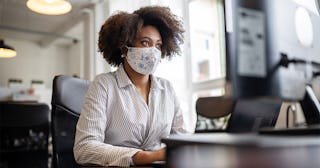 Luis Alvarez/Getty
New guidance suggests that vaccinated people need to mask up to protect against the COVID-19 Delta variant
Just when we thought we were getting out of the pandemic, the damn Delta variant has brought us back in. The variant — which is the dominant strain in the U.K. and per a study in New South Wales, Australia, the variant infected shoppers at a mall within seconds of "fleeting" contact — is apparently way more infectious than any variant that came before it, and because of this, the W.H.O is urging vaccinated folks to put their masks back on.
The World Health Organization (via The New York Times), announced late last week that fully vaccinated people should continue to wear masks and take other precautions.
To be fair, the W.H.O looks after the global health community and other countries do not nearly have the vaccine access or uptake that Americans do. Also, on Monday, The New York Times reported that the CDC said they had no plans to change their mask mandate in light of the Delta variant (currently vaccinated individuals are free to go maskless pretty much anywhere). Then, on the other hand, Los Angeles County (the most populous county in the country) just urged all vaccinated residents to go back to wearing masks in public indoor spaces (they lifted the mask mandate for vaccinated folks barely two weeks ago). The new Los Angeles masking statement is not a mandate, but rather a plea, as in — stop this damn Delta virus from spreading, please? Confusing? Yes. Sadly, mixed messaging is pretty par for the course when it comes to the COVID-19 pandemic.
Does that mean if you live outside those zones you can worry less about Delta? Unclear. Again, the variant is so new to the U.S. that the news changes every day, but CNN reported on Monday that Dr. Scott Gottlieb, former commissioner of the US Food and Drug Administration, said that the Delta Variant is "not going to be as pervasive…It's going to hyper-regionalized. There's certain pockets of the country where you're going to have very dense outbreaks." Those pockets of the country that experts worry about are Alabama, Arkansas, Louisiana, Mississippi, and Wyoming — all states with less than 35% of their population fully vaccinated.
Epidemiologist & health economist Eric Feigl-Ding, who became something of a Twitter celeb during the pandemic for his cautionary (although some may claim slightly alarmist) news about COVID-19, isn't so cavalier about the threat of the new variant.
Of course, the most effective way to stop the Delta variant (and now the Delta Plus variant) is to get everyone vaccinated, so a big "No Thank You" to the people who had the opportunity to get vaccinated, have no underlying health conditions that preclude them from getting it, and still didn't take the vaccine.
All this to say, the pandemic still isn't over.