WHO Announces Global Death Rate For Coronavirus Is Now 3.4%
by Cassandra Stone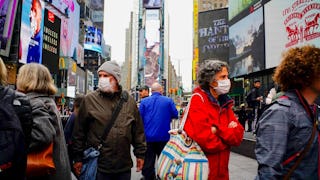 VIEW press/Getty
The WHO says the coronavirus is killing people at a rate much higher than the flu
According to the World Health Organization (WHO), COVID-19, the disease caused by the new coronavirus, has already killed about 3.4 percent of confirmed cases around the world. This figure is not only higher than previous estimates, but it's more than twice that of the death rate for the flu.
The fatality rate for the seasonal flu is less than one percent, comparatively. The global spread of COVID-19 can be controlled, according to the Director-General of the WHO Tedros Adhanom Ghebreyesus. He's urging all countries to step up their containment efforts and measures to protect those in the medical field who are dealing with confirmed and potential cases on the front lines.
"Globally, about 3.4 percent of COVID-19 cases have died. By comparison, seasonal flu generally kills far fewer than 1 percent of those infected," he told reporters in Geneva, outlining the main differences between the two respiratory illnesses. "To summarise, COVID-19 spreads less efficiently than flu. Transmission does not appear to be driven by people who are not sick, and it causes more severe illness than flu. There are not yet any vaccines or therapeutics, and it can be contained, which is why we must do everything we can to contain it."
Acknowledging the global shortage (and price-gouging) of products like hand sanitizer, soap, and face masks, Ghebreyesus is calling on companies and governments worldwide to increase production by 40 percent.
In addition to common-sense tactics like hand-washing, many people are calling on the lack of paid sick leave as a contributing reason for virus-spreading. Around 25 percent of U.S. workers have no paid sick leave. Many of them are in lower-paying jobs, which means that when they're sick, they can't afford to take unpaid time off. Foodservice workers, public transportation workers, taxi drivers, and more often show up to work while sick because they simply cannot afford to take unpaid time off from work.
The Washington Post recently researched ways unpaid sick leave directly contributes to the spread of sickness. In cities where paid leave policies were put in place, flu-related searches dropped immediately, sometimes by as much as 50 percent compared to cities where workers had none. At the end of the first year after sick leave policies began, searches were down an average of 40 percent in those cities versus cities with no sick leave laws.
The good news related to COVID-19 is that in China, where the virus originated, diagnosis rates of new cases are declining. Many recovering patients have gone back home, and the count of new cases has dropped to a new low as of today — with just 119 reported.
"We scrutinized this data and we believe this decline is real," said WHO outbreak expert Maria Van Kerkhove, who traveled to China as part of a team from the UN agency. She credits the extraordinary measures are taken there, including the lockdown of more than 60 million people, with the reason the virus is being contained.
"We believe that a reduction of cases in other countries, including Italy, Korea, Iran, everywhere, that this is possible."
This article was originally published on