Whole Foods And Instacart Workers Strike For Better Protections Against COVID-19
by Madison Vanderberg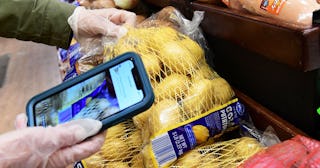 FREDERIC J. BROWN/Getty
Instacart and Whole Foods workers strike amid coronavirus outbreak
The world has become increasingly reliant on grocery store employees and delivery persons, but it's now coming to light that those essential workers are barely able to protect themselves from COVID-19 and often do not have contingencies like paid leave in place. The Instacart workers delivering groceries so others can stay at home, walked off the job on Monday, demanding basic protective gear like hand sanitizer and paid leave and Whole Foods workers staged a "sick out" demanding much of the same.
On Monday, March 30, Instacart workers walked off their jobs, writing in a Medium post that they demand basic protective gear like hand sanitizer, soap, disinfectant wipes, along with paid sick leave, hazard pay, and tip minimums.
"For the past several weeks, Instacart Shoppers and Gig Workers Collective have been urging Instacart to take proper safety precautions. We have been ignored," Gig Workers Collective wrote in the Medium statement. "Instacart has turned this pandemic into a PR campaign, portraying itself the hero of families that are sheltered-in-place, isolated, or quarantined. Instacart has still not provided essential protections to Shoppers on the front lines that could prevent them from becoming carriers, falling ill themselves, or worse."
They added that although Instacart recently announced a paid leave program, the company made the qualifications and the deadline nearly impossible for workers to meet.
Whole Foods workers staged a "sick in" on Tuesday, March 31, 2020, walking off the job and demanding paid sick leave, hazard pay, funds to cover the costs of coronavirus testing and treatment, and basic protective equipment in stores like hand sanitizer. Labor movement Whole Worker announced on their campaign page that Amazon — which owns Whole Foods — kept two Whole Foods stores open despite the fact that employees there tested positive for COVID-19 and that Whole Foods bosses even asked employees with accrued PTO to "donate" their paid leave to their sick coworkers, instead of just extending paid leave to all employees.
"Whole Foods employees are already getting sick. We must act NOW," Whole Worker wrote in a statement. "We are working harder than we have ever worked. We are putting our lives at risk. We deserve to have our needs met. Let's make sure it happens."
Relatedly, Whole Foods' parent company Amazon is also under fire for not taking necessary precautions to protect their warehouse workers from COVID-19. Currently, Amazon workers in 14 warehouses have tested positive for the virus and some Amazon warehouse workers in Staten Island, N.Y. — where several workers have tested positive for COVID-19 — walked off the job yesterday as well, demanding paid leave and a deep cleaning of the warehouse with guaranteed pay while it's closed.
As for today's Whole Foods strike, they called upon grocery store workers all over the U.S. to walkout in solidarity with them.
This article was originally published on