California Infant Is 1st Person In The State To Die From Whooping Cough Since 2016
by Christina Marfice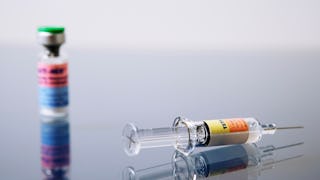 Image via BSIP/UIG Via Getty Images
This is California's first whooping cough death in two years, and officials fear an outbreak is coming
An infant under six months old has died from whooping cough in California, officials say — the state's first death from the illness since 2016. Now, public health officials are urging parents to take action in case of a deadly outbreak.
"This infant's death is a tragedy for the family and our community. My sincerest condolences are extended to the family at this difficult time," San Bernardino Health Officer Dr. Maxwell Ohikhuare said in a release. No details about the baby or the family have been released.
But in the release, officials also said whooping cough outbreaks tend to occur every three to five years. Since the last epidemic occurred in 2014, when more than 11,000 cases were reported, officials expect the next outbreak to occur this year or next. Whooping cough cases have been climbing steadily each year since the last outbreak, with 1,943 in 2016 and 3,156 in 2017.
Whooping cough, also called pertussis, is a highly contagious infection caused by the bacteria Bordetella pertussis, which settle in the upper respiratory tract and cause airways to swell, according to the CDC. It can be transmitted just by being near an infected person and breathing tiny particles that are expelled into the air when they cough or sneeze. Early symptoms often include a cough, runny nose and fever, but in serious cases, intense coughing spells that may cause vomiting or exhaustion can persist for up to eight weeks. The cough may also be accompanied by the trademark "whooping" sound that gives the illness its name.
Whooping cough is most dangerous to young infants. In the wake of this death, California public health officials are urging pregnant women to get vaccinated, as the antibodies from a vaccine received between 27 and 36 weeks of pregnancy can help protect the infant until he or she is old enough to be vaccinated. Babies can receive their own vaccines as early as six weeks, and children need five doses of the vaccine before they begin kindergarten.
In the wake of this horrible tragedy, we can only hope parents will take the risk seriously and vaccinate their kids. We don't know the circumstances surrounding this baby's death, but we do know that kids who can't receive vaccines, because of allergies or other health concerns, rely on herd immunity to be safe. If your kids are old enough and able to be vaccinated, make sure they're up to date on their whooping cough vaccines. Maybe we can stop the next outbreak before it starts.