Someone Asked Who's A Badder B*tch Than Taylor Swift -- Twitter Had Answers
by Christina Marfice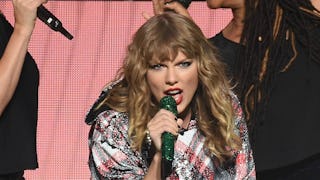 Image via C Flanigan/FilmMagic
Taylor Swift may be bad, but a whole lot of women are far badder
If you've happened to listen to that little track Taylor Swift dropped a couple months ago, "Look What You Made Me Do," you may be aware that Swift is really, really bad now. She's a bad lady. She does bad things. She is not sorry.
But is anyone badder than Swift? The internet was presented with this question, and (spoiler alert) the answer is yes.
In fact, if Twitter is to be believed, just about every woman who ever lived is a badder bitch than Swift. Still, when this meme hit Twitter, it challenged folks to "name a bitch badder than Taylor Swift," and boy, did they deliver. The thread became this amazing celebration of centuries and generations of bad bitches.
Some people took the opportunity to point out some of the baddest bitches in history, most of whom you may never have even heard of until now:
Others didn't even need words; they just shared pictures, like this iconic shot of Ieshia Evans, the then 28-year-old who stood fearlessly before police in riot gear at a Black Lives Matter protest in Baton Rouge, Louisina.
There were a lot of pioneering female astronauts in the thread, because space travel is undeniably badass and a field typically full of men. Here's Sally Ride, the first American woman in space:
Then there's Peggy Whitson, the first female commander of the International Space Station:
https://twitter.com/jetpack/status/937393511787311104
And, of course, Mae Jemison, the first African American woman in space:
Others who replied shared tales of feminine badassery within their own families — and it's downright inspiring:
https://twitter.com/jetpack/status/936904749168726017
The moral of this story? Taylor Swift may be a bad bitch, but so are so many other women. Let's just celebrate them all.