A List Of Legit Places & People Endorsing Biden/Harris––Some May Surprise You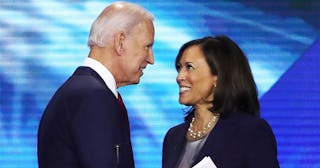 Win McNamee/Getty
Obviously, the vast majority of Democrats endorse Joe Biden and Kamala Harris in the 2020 presidential election. So do most folks who identify as liberal and/or progressive. But plenty of important people and organizations have also come out in favor of Biden and Harris, and it's not just the ones you'd typically expect. Biden and Harris have a wide-ranging support base from individuals and groups who think Trump's taking the country in the wrong direction— and who want to take it back. In case you're on the fence, here's a few of them:
Former Democratic Presidents And Vice Presidents Are Endorsing Joe Biden and Kamala Harris
Because duh. But all of the surviving presidents and VPs: Barack Obama, Bill Clinton, Jimmy Carter, Al Gore, and Walter frickin' Mondale (Jimmy Carter's VP) have all spoken in favor of Biden and Harris (we can also assume that as a former Democratic VP, Biden endorses himself). During the Democratic National Convention, Bill Clinton blasted Trump's obsession with social media and cable news networks, saying that Biden, on the other hand, was "a down-to-earth, get-the-job-done guy. A man with a mission: to take responsibility, not shift the blame; concentrate, not distract; unite, not divide," reports CNBC.
Pro-Choice Organizations Endorse Biden
If you're pro-choice, you're pro-Biden. NARAL Pro-Choice America and Planned Parenthood are both endorsing Joe Biden and Kamala Harris. NARAL Pro-Choice released their endorsement on July 27th, saying that Biden is "a deeply compassionate and thoughtful leader who knows that fighting for reproductive freedom for every body is part and parcel of a just society," according to Pro-Choice America. Planned Parenthood's Action Fund came out in support of Biden and Harris even earlier, saying that he is "the only candidate in this race who will stand up for our health and our rights."
Over 50 Mayors of Major U.S. Cities Are Backing Biden and Harris
Mayors of cities from all over the United States are endorsing Biden and Harris, including the mayors of Orlando, Chicago, Denver, St. Louis, Dallas, Memphis, Little Rock, and Phoenix … and, perhaps most notably, Muriel Bowser — the mayor of Washington, D.C.
LGBTQIA+ Organizations Throw Their Support Behind Biden and Harris, Too
Stonewall Democrats, a wing of the Democratic caucus that supports LGBTQIA rights, the National LGBT Chamber of Commerce, Equality California, The Advocate, and many other smaller LGBTQIA organizations are endorsing Biden. As Equality California says, "he understands that LGBTQ+ people belong to every community and face diverse challenges far beyond a need for basic civil rights protections." Of Kamala Harris, the organization says she has "demonstrated an unwavering commitment to civil rights and social justice for all LGBTQ+ people."
Biden and Harris Have the Environmentalists
The Sierra Club, The National Wildlife Federation, The Center for Clean Water Action, and the Center for Biological Diversity are all endorsing Joe Biden and Kamala Harris. As the Sierra Club says, "We are confident that Joe Biden will be the champion for climate justice that America needs in the White House… No president has been worse for our environment or our nation's public health than Donald Trump." On endorsing Biden and Harris, the Center for Biological Diversity, which protects wildlife and public health, says that, "The reason is simple: Donald Trump has been the worst president in modern history — an absolute disaster, especially when it comes to protecting people, wild places, wildlife and the planet. Four more years would be catastrophic for our planet and for our democracy. We can't let that happen."
Labor Unions Are Endorsing Joe Biden and Kamala Harris
The AFL-CIO, the Teamsters, the Coalition of Black Trade Unionists, Service Employees International Union, United Steelworkers, United Food and Commercial Workers, and The National Association of Letter Carriers are among the trade unions endorsing Biden and Harris. The AFL-CIO says endorsing Biden was a simple choice: "we know Joe, and Joe knows us." Their president cites concerns about worker safety and the free ability to join unions, and notes that our "democracy [is] under siege" by Donald Trump. The Teamsters also endorse Biden and Harris, "citing their strong record of standing with working families throughout each of their careers." Biden, they say, made it easier for workers to unionize, expanded overtime protection, and is committed to protecting pensions; Harris has "offered her own thoughtful pro-worker platform during her run for the presidency."
Scientific American is Endorsing Biden and Harris
While Scientific American says that in their 175 year history, they have never endorsed a political candidate, "this year [they] are compelled to do so" because "the evidence and the science show that Donald Trump has badly damaged the U.S. and its people—because he rejects evidence and science." As an example, they cite Trump's response to the COVID-19 pandemic, calling it "his dishonest and inept." They say Biden, on the other hand, "is offering fact-based plans to protect our health, our economy and the environment."
But Scientific American is by far alone in its endorsement. Other longstanding and prestigious publications are backing Biden and Harris as well — among them, Rolling Stone, The Atlantic, The New York Times, The Washington Post, The Economist, The Philadelphia Inquirer, The Los Angeles Times, The Detroit Free Press, and The Chicago Tribune … just to name a few.
Biden and Harris Have Locked In Gun Control Advocates
Nearly every major organization advocating for gun control is endorsing the Biden-Harris ticket. Everytown for Gun Safety, the Brady Campaign, and the Coalition to Stop Gun Violence have all come out in support of Joe Biden and Kamala Harris, with the Brady Campaign's spokesperson saying that, "He's a leader on this issue that's unparalleled, and he has a history around our issue of promises kept." She cites "proposals to address violence against women," his ideas to "close background check loopholes," and promises to "ban assault weapons and focus on reducing community violence" as reasons the organization supports him. The Coalition to Stop Gun Violence says, Biden has "proven commitment to gun violence prevention policies and a record of getting the job done."
Even Republicans Are Choosing Biden and Harris Over Trump
Loyalty to party isn't as critical as choosing the right leaders for our country, and this is made clear by the likes of the Super PAC 43 Alumni for Biden — which is comprised of former Bush administration and campaign officials. Former senior advisor to Vice President Mike Pence (and lifelong Republican) Olivia Troye, told The Washington Post that she was endorsing Biden because of Trump's "flat-out disregard for human life" during the pandemic. Cindy McCain, the widow of former Republican Senator John McCain, offered her endorsement, tweeting, "We are Republicans, yes, but Americans foremost. There's only one candidate in this race who stands up for our values as a nation, and that is Joe Biden." Miles Taylor, also a lifelong Republican and former top official in the Department of Homeland Security, recently revealed himself as the anonymous author of the scathing inside look at Trump's White House called A Warning … and spent his summer campaigning for Biden. These are just a few in a long list of Republicans that are tired enough of the Trump administration to cross party lines.
Biden and Harris have plenty of key endorsements locked up. Major support has formed behind Biden and Harris to defeat Trump. Let's hope it's enough.
This article was originally published on