Why I Encouraged My Daughter To Buy A Bikini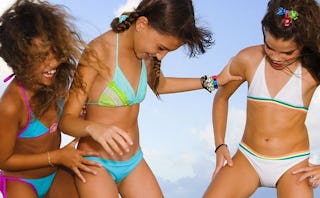 "Mom…can I pick out a bikini?" My 12-year-old daughter's words trembled with a hint of apprehension.
My eyes scanned the store display and bounced across the racks of brightly colored swimsuits. Nylon and spandex in every hue, cut and pattern assaulted me. Too flashy. Too skimpy. Too wild.
I wouldn't have selected any of those bathing suits for myself. Not even when I was her age.
Memories from my youth rushed over me. Of oversized T-shirts covering modest one-piece suits. Of fear that I was revealing too much skin or sending the wrong message. Of shame that my breasts weren't big enough…and that my butt was too big.
Fortunately, my daughter doesn't have these anxieties, and she is not ashamed of her body. Nor should she be. Her body is strong and healthy and beautiful. It is growing and changing rapidly, and she is embracing that development. She is comfortable with herself.
My daughter is a graceful, athletic swimmer. She is not looking to attract attention with a bikini; she just wants her attire to be as enjoyable as the activity she loves so much. Quite simply, she thinks the two-piece suits are "cute and fun."
The swimsuit only becomes an issue if I make it an issue. If the world makes it an issue. My response to an article of clothing will impact how she views it and herself when she's wearing it—positively or negatively. My response to her body will impact how she sees herself. My actions and words matter. Supportive ones will build her up. Critical ones could haunt her for the rest of her life. I should know.
Someday, unfortunately, a boy or a friend or an advertisement is going to tell my daughter that she's not beautiful enough. That she should be ashamed of some perceived flaw or imperfection. That she should cover up her body for fear that it will offend or incite someone.
But that won't be today. And it sure as hell won't be me.
I looked back at my daughter's hopeful eyes. "Absolutely. Let's find a really fun one!"
This article was originally published on