Why I Still L-U-V Madonna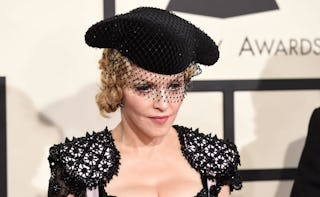 Jason Merritt/Getty
Rewind:
Summer of 1984.
Fourteen years old.
Sleepaway camp.
It was the summer of stonewashed Guess jeans.
Frankie Says Relax t-shirts.
Swatch watches.
And Madonna.
Truth?
I had no idea who Madonna was when I first got to camp that summer.
Like, zero.
But there were two girls in my bunk who did.
© Frank Micelotta/Getty
The first one was from Brooklyn and her name was Nicole.
And she was cool but indifferent in an almost-but-not-quite goth kinda way.
She rocked pale skin in the middle of July with a jet black asymmetrical wavy bob.
She rimmed her eyes in pounds of dark kohl liner when we were all busy experimenting with our liquidy tubes of electric blue Wet 'N Wild.
She wore cropped black leggings during the day and spent a lot of time sitting on the green benches outside our bunk writing in her journal. She told crazy stories about sneaking out to midnight showings of Rocky Horror that intrigued me even as they scared the shit out of me.
And she spent a shitload of time listening to some platinum-haired chick on a cracked cassette tape sing about love and lucky stars.
Madonna.
The other girl who was in the know that summer was Tammy.
And Tammy was a flirt.
She was from an exotic sounding place I had never heard of called The Main Line.
Um.
And even though she was the polar opposite of Nicole in about a billion ways, Tammy rocked a black bob that summer too. Only she paired hers with long, dangly earrings and black Chuck Taylor high tops with fat red laces—which sounds like a ridiculous combination but somehow just absolutely wasn't.
Maybe it was because Tammy was cute and tiny and popular in all the right ways. The kind of girl who'd run up behind a boy she liked in the middle of the day, fling her arms around his neck and jump on his back with a high-pitched giggle.
Who'd drag you into a sticky, humid bathroom stall and force you into using a tampon for the very first time when you were too much of a wuss to do it yourself. Who was confident in the way only a 14-year-old girl who is just beginning to discover the power of her sexuality can be.
And who knew every word to every song on both Side A and Side B of Madonna.
There were only eight songs on Madonna's first album.
Eight.
"Lucky Star." "Borderline." "Burning Up." I" Know It." "Holiday." "Think of Me." "Physical Attraction." "Everybody."
But eight was all it took.
Because by the time the camp nights turned damp and cool enough for sweatshirts signaling the end of yet another summer, I knew the words to every single one of them.
And my life would never be the same again.
I know what you're thinking.
Drama queen!
But here's the thing.
Before Madonna, there were no female pop stars for teenage girls to identify with.
None.
We didn't have a Britney, or a Christina, or a Katy, or a Ke$ha.
We didn't have a Pink or a Fergie or a Rihanna.
We didn't even have a Miley.
I mean…we had Tina Turner.
But she was kinda scary.
Cyndi Lauper had just come onto the scene.
But she was just way too weird to be relatable.
So who else was there?
Laura Branigan?
Please.
The person I probably identified with the most back then was David Lee Roth, mostly because he somehow managed to possess both the coolest wardrobe and the most totally awesome permed mane of the decade.
I so wish I was joking.
But really?
Who were we supposed to look up to?
Christie Brinkley? Cheryl Tiegs?
C'mon! They were supermodels!
And their sexy-but-wholesome images mocked us from the bedroom walls of the neighborhood boys we had once collected lightening bugs with.
Even Charlene Tilton and Catherine Bach had the whole big boobed, long-legged bombshell thing going on with their perfect Breck Girl hair and Daisy Dukes cut up to vaginaville.
But then came Madonna.
With her messy bleached-out hair. And ripped black leggings. And her cropped mesh tops punctuated with yards of tangled rosaries.
She was a rebel.
And a misfit.
And a troublemaker.
And yes.
She was a little chubby.
She was dark, but somehow girly.
Pop, but also urban.
She wasn't perfect.
She was a perfect mess.
And she didn't give a shit what anybody had to say about it.
Unlike the others I'll do anything. I'm not the same. I have no shame.
Her lyrics may not have been as straight-up angry and revolutionary as, say, Alanis Morisette's would be a decade later. But while Madonna may have sung with a certain airy naivete about longing for love and freedom and the one boy who didn't want her, in real life she was a jagged little pill.
Which made her the ultimate symbol of female empowerment to a generation of girls who were clearly starving for one.
And so it didn't matter if you were a Nicole from Brooklyn… or a Tammy from suburban Philadelphia… or if you were just another random teenager biding her time with a part-time job at Cignal and a tenth-grade boyfriend who met you in the Friendly's parking lot after school to smoke clove cigarettes. It didn't matter if you were a slut. Or a bitch. Or a prude. Or a loner. Madonna was a vulnerable badass who just wanted to be loved.
And so every single one of us embraced her as our generation's first collective girl crush.
You're so fine. And you're mine. I'll be yours. 'Til the end of time.
We tied those big mesh bows in our hair and piled black rubber bracelets up our arms and recorded the "Lucky Star" video on VHS tapes, then raced home after school to press play, pause and rewind about 50 billion times until we knew every single dance move cold.
© Brenda Chase/Getty
We scoured second-hand stores for black leather jackets that even slightly resembled the one she wore in Desperately Seeking Susan. We went to see Vision Quest just to hear her sing "Crazy for You". And we begged our older sisters, brothers, cool neighbors to drive us to see her live—live!—when she rolled into town for The Virgin Tour.
That was over 25 years ago.
25 years.
And not once, in all that time, have I never stopped embracing Madonna.
True story.
Not during the Sean Penn phase, or the Kabbalah phase, or the Hey-look-at-me-I'm-sleeping-with-Vanilla Ice phase.
Not during the Sex book phase. Or Shanghai Surprise. Or even during the time she went to that really dark place and started rocking a big black top hat and scary blacked-out tooth.
OK.
Possibly then.
But only for, like, just a second.
Maybe it's her insatiable desire to rule the world. Or the fact that she's not just the mother of reinvention, but an actual mother now as well. Or the fact that when she came onto the scene all those years ago she had the balls not just to break the rules, but to whip out a Sharpie and freaking rewrite them.
All I know is that ever since that very first summer back in 1984 when I begged my parents to bring her cassette tape up to camp on Visiting Day, Madonna's music has been the soundtrack to my life, each one of her songs marking the different stages and events I've cycled through with more legitimacy and weight than a generic date ever could.
Madonna appeared as if out of nowhere at a time when I was an impressionable young girl who thought following the rules was the only option. And then she put on a wedding dress, called herself a Boy Toy and rolled around on the stage at the MTV Video Music Awards and showed me that it wasn't.
So if saw the video of Madonna falling off the stage at the Brit Awards and the hater in you started asking what the fuck this middle aged mother-of-two with the weird muscle-y arms and the fake British accent is doing still performing anyway….
Remember.
This bitch moved to New York City in 1978 in be a dancer with $35 in her pocket.
Today she has sold more than 300 million records, has had 37 Top 10 singles and 17 Top 10 albums—seven of which made it to number one. She won a Golden Globe. And published children's books. And launched a clothing line. She is the female artist with the most certified singles (gold and platinum), more than the The Beatles.
Dance and sing, get up and do your thing.
Damn straight!
Proud Madonna Wannabe for over 25 years.
And still freaking counting.
This article was originally published on