Why It'll Bum Us Out If Ben And Jen Break Up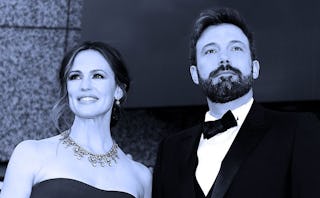 But, seriously, why we do care? If anything, we should like you about as much as the peasants did the aristocracy in late-18th century France. In other words, not at all.
This is because you two have everything. You live in the Pacific Palisades, which for non-Angelenos is an exclusive, ocean-view haven where your pals the Spielbergs and the Damons and the Apatows reside. You have three gorgeous kids. You have wealth and access and power and talent and thriving careers and awards, and if that weren't enough, drop-dead good looks, too. Your friends are equally wealthy, powerful, talented, employed, rewarded and good-looking, and from afar—or at least from the pages of People magazine—you make life seem like one long, easy drift, not a slog through the muck of the mundane.
Of course you're human beings, and it's all a glossy facade. Deep down we know this, and that at times you must be mired in shit, just like the rest of us plebes. And because we understand this, we have sincere sympathy for what you might be going through. We're downright bummed to hear your marriage of 10 years could be on the rocks.
I know I am. On the very first night after our move in 2008 to Santa Monica, which borders Brentwood, the neighborhood where Ben and Jen first began to breed before relocating to the Palisades, my family and I had a major "we're not in Kansas anymore" moment. We'd just sat down at a healthy Mexican restaurant—not an oxymoron in Los Angeles—when I noticed my then 1-year-old daughter, Plum, brightly laughing and drooling at a stranger, who was openly cooing at her.
I did a double-take. It was Jennifer Garner playing peek-a-boo and waving in my blonde baby daughter's direction. Plum—who we nicknamed "Tweety Bird" for her enormous blue eyes—ate it up and started squealing with delight and clapping her hands. Beautiful Jen made another funny face, milking Plum's reaction. Hubby Ben then rose from their table and picked up a kid of theirs before smiling in our direction, too. As they all walked out with a final nod back at Plum, I felt the opposite of starstruck; I saw how they were just a normal couple in the thick of this parenting thing, trying to be a family grabbing some dinner out.
Over the years, I'd spot them regularly around our 'hoods. Jen was hounded by the paps when she tried to shop Montana Avenue or the Brentwood Country Mart, sometimes inadvertently stopping traffic just going about her day. She looked stressed and harried when this occurred, and once broke out into a near-run, trying to get away and to her car.
Another time my husband and I had a much-needed date night at the Suzanne Goin restaurant Tavern. There she and Ben were, sitting just a table away from us, a bit dressed up and discreetly holding hands in the candlelight, apparently trying to do the same thing as they whispered back and forth and sipped their glasses of wine.
I admit, I've been rooting for them. I think many people are. Even if you've never seen them live and in the flesh, most of us aren't immune to famous couplings and "conscious uncouplings," simply because we now live with a 24-hour media bombardment. Few of us can avoid hearing the gossip, even if we try.
And for those of us who sometimes tune into this kind of off-screen drama, there's something else: Maybe, we wonder to ourselves, if these folks can't make it work, how do everyday marriages stay intact? They have everything in the world to help them stay together: teams of nannies to ease childcare, zero worries about paying the bills and plenty of outside assistance for staying fit and attractive to a spouse.
Maybe that's the good news for us regular Johns and Janes. Perhaps the glue that makes us stick is the muck and the mire. Having to pull together as a team and make life work, somehow, some way, even when the odds are against us. Of course we don't get awards for riding out the tough times, do we? But our payoff may be sweeter in the end. Because nothing worth having comes easy, does it?
Ben and Jen, I wish you good luck. I really do.
This article was originally published on