Why It's Important For Kids To Watch Professional Women's Sports
by Team Scary Mommy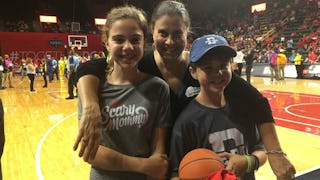 Being a woman can be difficult at times. We are often assumed to be inferior to our male counterparts or incapable of holding high-paying or powerful positions in our careers, simply because we lack a Y-chromosome. While it's frustrating, to say the least, it gives us the opportunity to prove people wrong every day—and we do. We exceed expectations and shatter ceilings like it's our job, because, well, it is.
It's our job, as strong women, to be role models for all the future strong women. The women who are just kids right now. Our daughters, to be more specific. There is nothing more important than setting a good example and exposing them to as many inspirational women as possible.
Recently, Scary Mommy had the opportunity to do just that with the help of the Women's National Basketball Association. The WNBA is filled with strong, powerful female role models, and there are so many reasons we should be encouraging our kids to watch these women in action.
The night we attended, the Washington Mystics faced off against the Seattle Storm in the Finals, and not even a torrential downpour (resulting in massive traffic) could keep us from being there to watch it all go down. The seats were amazing, and parents and kids alike were excitedly waving their rally towels. There was something magical about an event everyone could enjoy, together, sans screens. Of course, we did take a few photos with our phones, because we needed to showcase how much fun we had.
They gave 100% on the court, never giving up, even when their team was down. Their resilience and determination was admirable, and I loved exposing my children to this amazing performance of athleticism and sportsmanship. It was obvious, not a single woman on that court was going down without a fight.
These are the role models young girls need. Successful women, who are dedicated to their craft and strive for success. Women who don't back-down, even in the face of adversity. It was clear they were mentally and physically tough—mapping out plays and hustling down the court, time after time. If they were exhausted, you couldn't tell. Each and every one of them was inspiring.
Role models are one of the most powerful ways to impart attitude, behaviors, and ideas to others. We need to shine a brighter light on female athletes, because they are the embodiment of so many of these positive attributes. We need to let our young female athletes know that they too can achieve their dreams, and they shouldn't be discouraged. What better way to do that than by exposing them to women like this?
So, take your kids out to a game, or find one on tv. However you decide to watch, just watch. You won't be sorry.
If you'd like to keep up with the WNBA, follow them on Facebook and Instagram.