Why I've Never Gotten Over Princess Diana's Death
by Brette Sember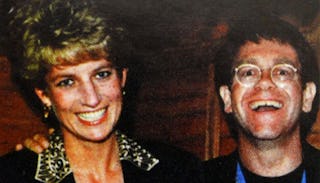 I was 12—a hormonal, hopeful tween—when Diana Spencer married Prince Charles. I sat glued to the television to catch every detail of their crazy, stuffy, royal wedding. Her poofy dress, heavy tiara, giant train and slightly bashful expression was a caricature-like manifestation of all my childhood fantasies. At 12, I was chubby, wistful and worried no one would ever love me. My prince might never come, but then Diana married hers. There were carriages and bouquets and horses and flower girls and a ring. The spectacle gave me hope. Someday, I might also marry a man with many first names. He might not be the cutest, but I could deal.
Diana settled into her royal duties. She had babies. She danced with John Travolta. She made a name for herself working with serious causes. She grew up, and so did I. I found my own prince (who had a normal amount of names, but made up for it by being cuter than Prince Charles). I had babies. I did not dance with John Travolta, but I got over it. I found my own passions, causes and truths.
Then the truth slowly came out about Diana's unhappiness, her eating disorder, her marital woes and the truly difficult life of a Windsor princess. But she sucked it up, and she made lemonade out of lemons. She did the scary, uncharted thing and got out of the marriage and insisted on being a real mom to her children. She didn't let the royal establishment rule her life. She found her real place in the world despite some mistakes.
Her choices made sense to me. I was making tough decisions in my own life and with my own children. I was a divorce lawyer who decided to quit and stay home with my kids. I, too, made a scary choice that many people thought was foolish. Like Diana, I chose happiness and my children over what I was supposed to do, and I made mistakes along the way. My kids were my priority, and I had found my true place in the world. I felt like we were in sync in some ways. But unlike her, I was not pals with Elton John.
Then one terrible day in August when I was pregnant (somehow I was always hormonal for the big events in Diana's life), the news came that she had been killed in a car crash. I watched the flowers pile up in front of Kensington Palace. I saw the Queen come out and make a very stiff effort to be human. I sobbed through Diana's funeral and recorded the song Elton played in her tribute—a song which I still play today. I reread her brother's eulogy that took stabs at the royal family. I doubled over in pain when I saw the note labeled "Mummy" on her casket and couldn't breathe as her boys followed her horse-drawn casket. I felt wistful about her secluded burial place.
When Diana died, her dreams died with her. With her gone, I felt as if some of my own optimism had passed away with her. Fairy-tale-princess weddings aren't real. Marriages aren't perfect, and some fail. Royalty can be a burden, not a blessing. Promise for the future can be fleeting and false. Youth fades. Hearts get broken. Finding yourself can be a challenging task. And sometimes things end very, very badly without reason. All of those lessons came from one woman's life.
Diana was a symbol to me. Even as she coped with the twists and turns of her life, she gave me hope that things could end up as happily ever after if you adjusted your expectations for the modern world. When she was suddenly, senselessly gone, hope for me was also gone. That 12-year-old girl who took in the royal wedding with wide eyes had lost her princess.
I guess we all lose our princesses as we grow up. The fairy tale ends, and we all must face life without the storybook. But our hearts will always ache that the story had to end.
This article was originally published on