Why Unplanned Summers Suck
by Lisa Sadikman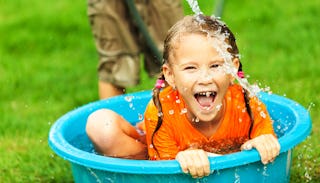 Sleeping in late. Cruising the neighborhood on foot or by bike. Catching frogs in the creek. Nature walks. Endless hours of Lego building. Finger painting and papier-mâché crafting. Swimming at the pool. Baking muffins from scratch. Hours spent contemplating nail polish colors, who has a crush on whom, re-reading A Fault in Our Stars for the millionth time or, if you're in preschool, Knuffle Bunny.
Sounds like an idyllic, unscheduled, I-have-nowhere-in-particular-to-be summer, doesn't it?
Yeah, sure: if you're a kid. But what about us parents?
I'm a mostly stay-at-home mom, and the thought of two-plus months of unscheduled time with my three kids is many things, but idyllic isn't one of them. Unstructured time for them basically means no down time for me. Having them "take it easy" over the summer means I'm doing triple time. They don't wake up or go to sleep at the same time. Their food preferences only sometimes overlap, and that's when the stars align and they all decide they want shell-shaped mac 'n cheese.
They each have a different idea of what "unstructured" means. One wants to laze around the house, one wants to go to the zoo and the third to Great America. Coordinating them is like herding cats and almost always ends with someone crying. If we stay at home, there's plenty of drive-me-crazy bickering until one kid wanders away to play Minecraft while another plays soccer in the street and the third forces me to play Mermaid Princess Goes to the Undersea Grocery Store. And yes, I have to wear a tiara, imitate Rebel Wilson's mermaid dance in Pitch Perfect and know, definitively, what seahorses eat for breakfast. (Seaweed pancakes. Duh.)
In order for my kids to experience a "throwback" summer, it means I'm on call full-time, ready to cook, play, mediate or chauffeur. Talk about throwback.
Here's the deal: even if my kids did manage to chill out for a week of summer completely free of any obligations, I couldn't deal with the unscheduled time. During the school year, I have a routine, and I thrive on that routine. Sure, it's made up of endless rounds of meal making, carpooling, general schlepping and errand running with a few pieced-together hours of part-time work and coveted alone time before my offspring assemble at home in various states of meltdown and starvation. Still, my routine is a known quantity and I need it to stay sane. A random school day off for teacher in-service can send me into a tizzy: now I need to cancel whatever I had planned and what the hell are we going to do all day? So imagine what an entire week, let alone an entire summer, of unscheduled time with my kids would do to me. Not pretty.
That is why my kids are in camp ALL SUMMER LONG. Well, save for the two or so weeks of vacation we all take together. This year the two older girls are going to sleepaway camp for a full month while the little one will go to her preschool's summer program, which, by the way, is highly unstructured. When they get home, there's exactly one week before we go on vacation and one will be in soccer camp while the other does tennis. The little one will continue on in her unstructured preschool camp. When we get back, there will be approximately three weeks left of summer. Options include a two-week camp that takes them on a field trip each day to all the places I can't deal with (amusement parks, water parks, etc.), another week of sports camp and maybe more swim lessons. And for the little one? You guessed it. More awesome preschool camp!
I love my girls, really I do, and I love spending time with them. What I don't love is having three very different kids with different demands underfoot without a plan all summer. I will also admit that I love having my own, child-free down time, and a summer without camp means I don't get much of that. Call me selfish, but it's what I need to stay somewhat balanced.
The truth is, my kids really love camp. It's a chance for them to hone their sports skills, hang out with friends, and try cool new stuff like rock climbing and surfing. Lest you think I'll be lounging on my deck chair all day long drinking Mai-Tais while they sweat it out at camp, the little one gets out of "camp" at 1 p.m. every day and I've already planned time with each of my big girls individually, plus a few group outings just so they know how much I love them (Disneyland anyone?). Because I do.
This article was originally published on