Why We Must Save Judy Blume's Legacy
by Julie Wilson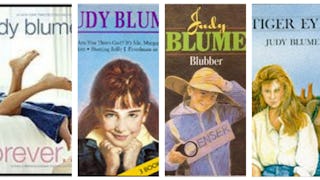 Images via Amazon
After nearly a half century, Judy Blume is still blazing the writing trail with a new book out, but her legacy is fading—at least in my daughter's eyes, anyway. As a whimsical 10-year-old, my daughter is a natural reader. Our nightly reading routine has evolved into a daily one for her as she devours everything from Tuck Everlasting to Junie B. Jones…but none of the Judy Blume novels I once loved.
At my daughter's age, I had already devoured Are You There God? It's Me, Margaret and Tales of a Fourth Grade Nothing. I felt like I had been granted membership in this sacred club, where everyone who ever read Blume's books had a special knowledge beyond their years.
The girl who sat toward the back of my fifth grade class, who insisted on wearing white knee socks every day and whom I thought was a total dork was reading Blubber, and I immediately changed my mind about her. She recognized that Wendy was a real bitch, and Jill shouldn't have been such a pathetic follower. She got it. She and I, we had a real, live Wendy in our class, and we both knew it. It was as if we could secretly point to the cover of Blubber, give each other a knowing nod, and move on with our lives—because we both knew that we couldn't change our in-class Wendy, but that she would eventually get what was coming to her.
And Are You There God? It's Me, Margaret. Are you kidding me? I think I read this book twice before it was due back to the library. Then, when I bought my own copy through Scholastic Books, I would skip watching Gilligan's Island re-runs with my brother and sister after school to read in the solitude of my bedroom. Surrounded by my Holly Hobbie dolls, I would sip my grape Kool-Aid in between pages, mesmerized by the fact that someone else had been able to read my mind and translate my thoughts into the perfect book. And, to beat that, she was a grown-up! While my friends were taping up Shaun Cassidy and John Travolta (circa Welcome Back Kotter) posters, I longed to meet Judy Blume. And, I determined, she was eager to meet me. I mean, after all, I'm sure she would want to chat with her muse in person.
One of the strongest reasons why I gravitated toward Ms. Blume's books was that I was raised in a very fundamentalist Christian church. At 10 years old, I was being told we weren't allowed to see movies. We couldn't wear makeup or pants, only skirts. The irony is that my mother grew up Catholic, so we attended this church because she was invited by a good friend, and we stuck around. It was as if we were outside the fish bowl, looking in at how this world worked, not usually agreeing with the church's strict stance but abiding when in its midst. Not hypocrites—more like spiritual anthropologists.
But as I got older, and the more it was implied that you didn't talk about sex or boys or anything to do with maturing into a woman, the more isolated I felt. Why should I have to wear a skirt when I had the heaviest flow of any 13-year-old I'd ever met? I rebelled by finding the only skorts available in the early '80s. As my body started developing, I felt more and more like Margaret was my soulmate, the girl who trail-blazed the way for us to have some sort of resource for all of these burning questions.
I want my daughter to experience that, to know that all of these questions about growing up have been asked by tribes of girls who have come before her.
But I'm going to be patient. Everyone matures at a different pace, so maybe she's not quite ready for these books yet. Or maybe it's because I—her boring, "What do you know about what's cool?" mother—recommended them. Either way, she'll get to know Ms. Blume in her own time. After all, it took her three years of constant exposure to the Beastie Boys before she finally started liking their music.
This article was originally published on