PSA: Leave WIC Items On Store Shelves For Parents Who Need Them
by Christina Marfice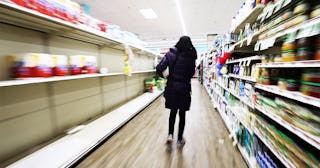 s the coronavirus continues to spread across the United States, stores like Best Market had problems keeping up with the high demand for paper goods leading to empty shelves on March 17, 2020 in Merrick, New York. Al Bello/Getty
When shopping during the coronavirus pandemic, be aware of which products are available for moms and kids on WIC
Coronavirus and COVID-19, the respiratory illness it causes, continue to spread around the world as more and more people are preparing for lockdowns and "shelter in place" orders that could leave them confined to their homes for weeks or even months. Knowing what may be coming, Americans have been rushing to stores and panic-buying supplies like milk, bread, and toilet paper, all of which have become difficult to find all over the country in the last week. But one mom has an important message for others as they stock up for a potential quarantine situation: Be mindful of which products are available to moms on WIC, and leave those on the shelves.
The PSA was originally posted to Twitter, along with a photo that shows a tag with a WIC marking on it, so people can learn to see which products are covered by the program. WIC stands for Special Supplemental Nutrition Program for Women, Infants, and Children, and it helps low-income moms buy nutritious food for their babies and kids.
The problem during the coronavirus pandemic is that if WIC-eligible products are sold out at the store, those moms may not have the option to just grab a different type or brand. The program only covers very specific items and brands, and once those are gone, unless they have the cash to pay for other items, moms who use the program may have to leave empty-handed. That means that not only are they going hungry, but so are their kids. In a time riddled with so much uncertainty and anxiety, no one needs to be worrying about how they're going to feed their kids.
There are around 6.8 million moms and kids who use WIC. If they qualify for the program, it's because their income is low enough that they very well might not have the means to provide for their families any other way.
Many of us are feeling helpless as the coronavirus continues its deadly spread. If that's you, this is a very important thing you can do to help lessen the impact of the pandemic on others. When you're shopping, especially for items your stores are running low on, pay attention to the price tags. When you see a tag with that little red WIC symbol on it, leave those items alone and select something else. There are moms and kids who need them, and don't have any other choice right now.