Babies Born To Moms Using WIC Are 33% Less Likely To Die In 1st Year Of Life
by Valerie Williams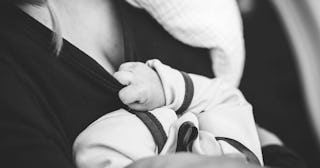 Jordan Whitt/Unsplash
A nearly decade long study of more than 11 million moms shows that WIC saves babies' lives
In a time when government assistance programs are under intense scrutiny by an administration that just cut SNAP benefits for hundreds of thousands of Americans, a new study shows that women who use WIC benefits have babies who are much more likely to survive their first year of life.
The study, published in the Journal of American Medicine, followed more than 11 million women who gave birth between 2011 and 2017. Some of them received benefits from the federal government's Special Supplemental Nutrition Program for Women, Infants and Children, also known as WIC. Others didn't. WIC provides food vouchers for items that are nutritious and high in protein and iron, like dairy products.
The study showed that children of women who used WIC benefits were 33% less likely to die in their first year of life than children of women who were not a part of WIC.
"The study shows that WIC works," said Dr. Samir Soneji, an associate professor at the University of North Carolina's Gillings School of Global Health and one of the study's authors. But still, Soneji added, "All safety net programs are being scrutinized under a magnifying glass. There is a legitimate question as to the benefit of WIC."
Despite having one of the most robust economies in the world, the U.S. also has one of the highest infant mortality rates, much higher than the world average, and higher even than many developing countries.
WIC provides benefits to moms who are low-income or otherwise "found to be at nutritional risk." It provides "federal grants to states for supplemental foods, health care referrals, and nutrition education for low-income pregnant, breastfeeding, and non-breastfeeding postpartum women," as well as to infants and children up to five years old, according to the program's website. The U.S. Department of Agriculture, the department in charge of WIC, says that more than 6 million people receive program benefits each month. Of those, more than 3 million are children, and around 1 million are infants.
Even while SNAP is seeing so much scrutiny and facing new restrictions, there still seems to be solid, bipartisan support for WIC, even before this study was released.
Angela Rachidi, a research fellow at the American Enterprise Institute, a public policy organization that supports restrictions on SNAP benefits, told ABC the study's results match public opinions of WIC.
"This is generally a good study and is suggestive of the positive benefits of WIC," she said. "I do think WIC enjoys bipartisan support, it has integrity. Public money from WIC is being spent on nutritious food, and the food bought with SNAP isn't always considered healthy."
This article was originally published on