Man Sits On Porch With Gun As Schoolchildren Walk By, Because America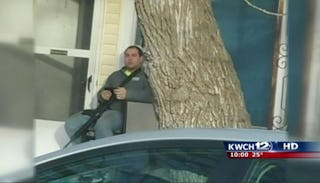 Image via KWCH News
A Kansas man is scaring locals by sitting on his porch with his rifle
It wouldn't be out of place in an old Western, the middle-aged man who sits on his porch, cradling his gun, just in case anyone tries to steal his cattle. Except this isn't the 1800s, this is 2016, in Wichita. And the man sitting on the porch with a gun lives directly across from an elementary school.
Local parents are obviously concerned.
Kansas TV station KWCH12 covered the story, and allowed the man to explain himself. He claims it's all a misunderstanding.
Fortunately for him, it's not illegal to cradle a rifle while staring across the street at a building full of schoolchildren. Unfortunately for everyone else, it's creepy as hell. And that's an understatement.
According to KWCH, at least one parent of a student at Kelley Elementary School, Ashley Badders, has advised her kid to take a different route every morning, because legal or not, WTF?
"I don't know what anyone else would get from his sitting on the porch with that gun," Badders said. "What is the reason? I mean, these are fifth grade kids and under."
What is the reason? According to the man, who identified himself only as Kyle, initially said he had the gun because he wasn't happy with people parking in and around his driveway. I think Johnny Cash sang about that once ("I once shot a man in Kansas just because he double-parked"), but that's neither here nor there, especially since Kyle quickly backtracked and said that the tough parking situation is not why he was menacingly holding a gun while staring at the school.
"Didn't feel like I was bothering anybody," Kyle said. "I am a hunter, I do like to hunt and I just wanted to sit on my front porch with my gun, I didn't think that was a big deal."
What does he like to hunt, the most dangerous game?
He has the right to carry the gun openly because, Kansas (also America!), and while the school district is aware of the situation, there's nothing they can do, as he hasn't made any threats or pointed the gun at anyone. Good for Kyle! He hasn't pointed the gun at the dozens of small children who walk by his house everyday. What a hero.
It boggles the mind, why anyone would think it's a good idea to sit around in broad daylight, across the street from a school holding a rifle. Just because they can.
"People have the right to think what they want and believe what they want but just because I have a firearm, I'm not a bad person," Kyle said. "Mainly I just want people to know I'm not a bad person and for the lady that I had the confrontation with, I apologize, didn't mean to call you a name I was just trying to have you move because you were blocking my driveway."
He went on to say he was just exercising his second amendment rights. Which, unfortunately, don't say anything about not being an asshole.
This article was originally published on