This Wife's Story Describes The 'Man Flu' Perfectly
by Julie Scagell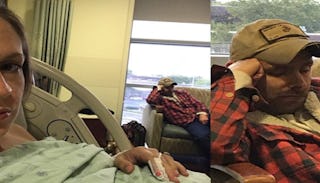 Image via Sydney Waters
This woman's account of her husband's 'Man Flu' is accurate and hysterical
If you have a husband, partner, male best friend, or have simply just encountered any man, you know when they get sick, the Oscar for Best Actor in a Drama Series-level shit is about to go down. That's why one woman's post about her husband's stomach flu will have you spitting your wine all over the damn place, saying, "Same."
RELATED: What To Eat When You Have The Stomach Flu (And Feel Like Ralphing 24/7)
"Just as sure as the sun rises and sets, I can count on him to be completely useless for a solid week if he so much as sneezes," Sydney Waters, who writes at Strollin' With My Homies, started out saying after hearing her husband cough from the basement.
And it reminded her of a time they both (read: both) had the stomach flu years earlier (while she was pregnant no less), so she decided to share it with the world. And we are oh so grateful to her for it.
Apparently, a few years ago when Waters was nine weeks pregnant while simultaneously caring for her six-month-old daughter, Cora, she came down with the stomach flu. You know the puking-out-the-window-nearly-shitting-your-pants variety? Her husband, Ty came down with the same flu later that night.
"I watched my husband transform right before my eyes, stumbling around saying he's going to puke," she wrote. "Grreeeeeat. The moment he says he's feeling sick, my eyes automatically roll into the back of my head and touch my spine. Instant dread."
And so begins one of the funniest things I have ever read. The story recently went viral on Love What Matters, and it's easy to see why.
Waters goes through the stages of disbelief we've all gone through when our significant others (who are men) fall ill. First, she tries being nice, but that backfires immediately. "First stop is our kitchen sink. He pukes all over a week's worth of dirty dishes. He's obnoxiously loud when he's barfing to make sure I know this is the real deal. The neighbors know it's the real deal," she continued. "The next town over knows too."
Been there, sister.
Then, she orders him to the bathroom where he continues puking not in the toilet, but in the bathtub. Makes sense, it's a large receptacle that omg should be as clean as possible since it's where we clean the kids.
Before she can strain her eyeballs from all the rolling, she realizes she's in for a long, long night. "He lays on the floor with his eyes closed and starts moaning 'Syd. Syyydd. I can't. I can't see…'" she said. "Oh Jesus so now he can't see? Is this a joke. He has a flu symptom that doesn't even exist. Actually, I can't. I should probably leave. Where is this dude's mom?"
And that's when he demands her to call 911. Yes, you read that right, Ty needed emergency services, stat.
"He's rolling around like a pig in sh*t but in his own barf that's everywhere but the toilet. I decided to try and call his bluff. 'Do you need me to call 911??? We just have the stomach flu and I'M PREGNANT. I'm tired. You're telling me I am going to pick up the phone and say this is an emergency. You know they're going to actually come here RIGHT?'"
This is probably a good time to mention Ty is a first responder himself, and a combat vet. This story couldn't get any better if it possibly tried.
Of course, once poor Ty realized he'd likely know one of the responders, he miraculously pulled his shit together and could walk and talk again when they arrive.
"They proceed to tell me I need to follow behind them to the hospital because he was going via ambulance. For the flu. That I gave him. I drive my pregnant butt alone to the hospital while puking in a plastic bag with my husband in front of me on a stretcher being doted on."
Waters tells Scary Mommy this is par for the course where sickness is concerned. "When he gets sick and we both nod at each other and keep our distance when he starts coughing," she said.
Cue two IV's, a brief hospital stay (for Waters, of course, who is with child), some more shitting and puking, until finally days later the horror is over.
"If you think your hubs is the worst when they get sick, come and read this again for a reminder," she said. "Beware… the man cold and flu season is near. This could be you."
This article was originally published on