Pregnant Wife Performs CPR On Husband Suffering Cardiac Arrest -- Then, She Gave Birth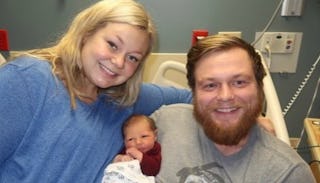 Image via GoFundMe
This wife was 39 weeks pregnant when her quick-thinking saved her husband's life
There are birth stories, and there are birth stories. This one has the highest of highs and the lowest of lows — but it has a happy ending, thankfully. All thanks to a quick-thinking mom, who saved her husband's life just two days before delivering their son.
Women are amazing.
Ashley Goette was 39 weeks pregnant last week when she was woken up in the middle of the night by her husband, Andrew, who was "gasping for air." She immediately called 911, where a dispatcher coached her through chest compressions and CPR until paramedics arrived to take him to a nearby hospital in St. Paul, Minnesota.
She tells ABC News she was "preparing for the worst." Dr. Alex Teeters at United Hospital in St. Paul says the medical team was concerned about Andrew sustaining brain damage from lack of oxygen. According to a GoFundMe set up by the family, the initial prognosis was dire: "CT and MRI scans, along with clinical signs, pointed to catastrophic brain injury." The team of specialists treating him felt it was likely he would not wake up.
"I didn't want to have to think for one second about having to do any of this without him," Ashley says. "I kept telling him the whole time he was asleep, or in his coma, that I was not going to have this baby until he woke up."
One day later in the ICU, Andrew did wake up. The day after that, the couple welcomed their son, Lennon Andrew. Ashley delivered their son via C-section in the same hospital, and though Andrew was not allowed in the room, her sister helped facilitate a FaceTime call so the proud father could watch as his son entered the world. Immediately after his arrival, Lennon was taken straight to his dad.
"I was just excited to be able to get to hold him right away," Andrew said. "First, actually."
After Lennon's delivery, Andrew was moved over from the ICU so he could lay beside his wife. "They brought Andrew down to labor and delivery, on his very own hospital bed and just parked it right next to mine," Ashley tells FOX 9. "And he got to be there throughout all of labor and delivery."
Could you imagine? You've just given birth and your husband just got out of the ICU from experiencing a life-threatening cardiac arrest. Someone get this woman a medal, a certificate to the nearest spa, and a 24/7 on-call nurse, STAT.
The doctors eventually diagnosed Andrew with a heart arrhythmia, caused by Wolff-Parkinson White syndrome — a condition that causes a rapid heartbeat. Doctors worked to correct the condition, and Andrew's prognosis is now "fantastic."
You can donate to help the Goette family with medical expenses via their GoFundMe page.
This article was originally published on