Genius Convinces Husband 'Ulta' Stands For Utilities On Their Bank Statement
by Valerie Williams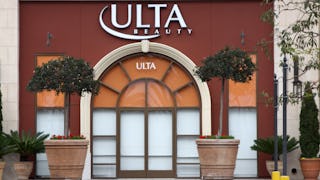 Image via Diana Haronis/Getty Images
Her husband asked if 'Ulta' means utilities and she rolled with it
If you're super into high-end makeup (*slowly raises hand*)and your partner doesn't understand that the good stuff will run up a bill pretty quickly (*raises hand again*), you'll appreciate one mom's fast thinking to cover up a recent Ulta spree.
If you're unfamiliar with Ulta, just know that it's pretty much the best beauty supply store/salon ever. It has most of what Sephora carries (and more) in a slightly less intimidating layout. Oh, and they'll style your hair too. But if you're into fancy makeup, it doesn't take long to rack up a scary-high total.
In a tweet that's gone insanely viral, Trisha Lopez recounts a story about her mom telling a little white lie to her husband to cover up a big Ulta bill. She thought on her feet and Twitter is loving it.
Lopez heard her dad thumbing through the bank statements and landing on a $275 charge from Ulta. "'What's U-L-T-A? $275? Is that utilities?' And my mom goes 'yeah I payed the bills' and he said thank you," she tweeted.
He. Said. Thank you. We can't. Trisha's mom, you're queen. We bow down.
Lopez shared a photo of her mom looking extremely pleased with herself on the Facebook page Love What Matters along with the story of her perfectly sneaky deed.
You go, Trisha's mom. We're taking careful notes.
Lopez revealed that her dad was eventually clued in about the truth behind the Ulta charge. He had a typical husband reaction to the news.
https://twitter.com/jetpack/status/948112027121102849
Still, Twitter is very much here for this mom's quick cover-up for her pricey makeup habits. Some also had similar inspirational tales of their own about how to cloak frivolous purchases as something legit.
https://twitter.com/jetpack/status/948328856292818945https://twitter.com/jetpack/status/948362379363999745https://twitter.com/jetpack/status/948353622173257728
https://twitter.com/jetpack/status/948340747702603776
We're beyond awed by this woman's clever ways. Trisha, please keep these tales about your mom coming — we need all the help we can get.
This article was originally published on