This New Harry Potter Line Will Make Your Muggle Kitchen Magical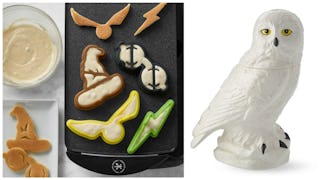 Image via Williams Sonoma
Consider your holiday shopping done and just nab all of Williams Sonoma's new Harry Potter gifts
Forget things like shiplap and floral prints. If you have any plans to redecorate this holiday season, might we suggest a rather unconventional kitchen theme that you can now have thanks to Williams Sonoma: Harry Potter.
The home goods chain just released a huge collection of HP goods, and while there are a few toys, treats and gifts in there, the vast majority of the line is kitchen accessories. And they're all delightfully Potter-themed, which means designing the perfect kitchen for whipping up treacle tarts and pumpkin juice is now well within your grasp.
Check out these spatulas, for example, which come emblazoned with all the Hogwarts house crests. You can get one pertaining to where the Sorting Hat told you you belong, or just get a general Hogwarts one instead.
There are tea towels, which also contain the house crests, meaning you can get separate ones for each member of your family and their prospective house.
Don't forget a set of matching aprons, which come in both adult and kids' sizes.
Once your magical new kitchen is outfitted, it's time to get cooking. How about a set of Hogwarts house crest cookie cutters? Because traditional Christmas cookies are overrated, you know?
There's also this full-on cookie baking kit that features cutters, icing bags, decorating tips, and a storage box.
Or, if breakfast is more your jam (because breakfast is everyone's jam, let's be honest), pancake molds. Everyone who knows me, your Christmas shopping is now finished. Just get me these.
You'll need somewhere to store all your freshly made Harry Potter treats, so better grab this Hedwig cookie jar while you're at it. It'll look great on the counter of your new kitchen, after all.
And if you get hungry before your cookies and pancakes are ready, you can munch on a chocolate wand, or an adorable house-themed cake. Gimme.
There are too many items in the collection to list them all, but that doesn't mean you can't buy them all. Check out the full line here, and happy shopping, Potterheads.