Baby's Terrifying Accident Is A Wake-Up Call About Window Safety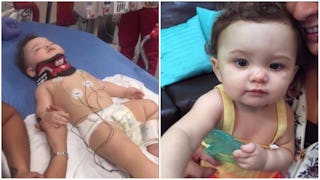 Image via Facebook
The little girl is okay, but window safety is no joke
After her baby fell out of a second story window, a mom is warning fellow parents about window safety. In the hot summer months, windows tend to be open, but just because a screen is down doesn't mean your kids are safe.
When Erin Cumiskey arrived at her babysitter's house and saw the screen on the driveway, she immediately knew that that's where her 11-month-old daughter, Madeline, had fallen out of the window.
"When I got there, I just saw the screen on the driveway, and I knew that was where my baby fell," Cumiskey told WFAA in Texas in the aftermath of the accident.
Hanna Davis, a reporter for the station, shared some photos of the mom and her baby on her Facebook page.
Hannah explained how Erin wants to use the incident to bring awareness and help others avoid similar accidents. "Today her mom and doctors are sharing ALL the information you need to know to keep kids safe."
Madeline was at her babysitter's in Plano, Texas when she fell from the second-floor window, pushing through the screen and tumbling out onto the driveway. She was airlifted to a Children's Medical Center in Dallas where she received treatment for her fractured skull. She is expected to make a full recovery (you can help with their medical costs), but her mom knows how lucky they are. Because Madeline is not the only child to have such an accident.
The Children's Medical Center's Senior Director of Trauma Services, Lori Vinson, shared some info, stating that falls are the number reason parents rush their kids to emergency rooms, and reiterating that screens are not safe.
There are a few simple steps parents can take to avoid tragedy.
"Screens are meant to keep bugs out not to keep kids in," Vinson said, and offered a few safety tips, like keeping furniture away from windows so kids won't have easy access, and buying window guards. She added, "If you have to open a window, only open it four inches or less."
The advice Vinson provided echoes the guidelines devised by the Window Task Force that was created in 1997 to help educate parents and other caregivers to the dangers of unprotected windows.
The task force was created by the National Safety Council in partnership with safety advocates and industry professionals in the hopes of preventing accidents like the Cuminskey's. Make no mistake about it, the guidelines they created are necessary.
According to Safe Kids Worldwide, around eight kids die every year from falling out of windows, and more than 3300 are seriously injured.
Madeline Cuminsky was one of the lucky ones, and her mom knows it. "She's doing great. We're so lucky," Erin Cumiskey told WFAA.