Here's An Easy Recipe For Boozy Wine Gummy Bears. You're Welcome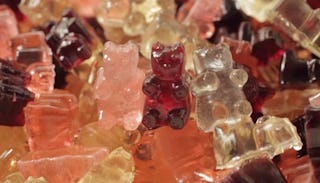 Image via YouTube Cooking With Janica.
Wine gummy bears are ridiculously popular
There's finally a dessert that we won't feel guilty about not sharing with our kids. The old favorite, gummy bears, have gotten an upgrade and can now be found infused with delicious wine. It's the perfect adult-only snack for any season. And if you're a lover of DIY projects we've got the recipe so you can make some wine-infused gummies at home.
Before we get down to the specifics, let's discuss how we became so lucky to be alive at the same time as this genius invention. Sugarfina grabbed a bottle of their Whispering Angel rosé wine and headed to the kitchen this past June. The result was a "lightly fruity, sweet and tangy" wine-infused gummy bear, Today reported. The candies sold out in two hours, and more than 18,000 people joined a wait list to get their hands on these treats.
Bonus Content: Scary Mommy's "THE MOM CLUB: 10 Stories to Make You Feel Like a Better Parent." Download it here.
Sugarfina's all caught up on orders now, but you can't expect to get a buzz from the snack. The rosé is burned off the in the cooking process, so their gummies have the same flavoring as the famous wine but not much alcohol. But the ladies behind "Cooking With Janica," Jessica Pinney and Janette Staub, decided to make their own gummy bears that do pack a punch in the booze department. They were kind and shared their process so we can all have some fun in the kitchen. "I do love Rosé, but I thought why stop there," Pinney wrote on their blog post that's going viral. "I'm going to make wine gummy bears of all types. Red, White, and Rosé. It almost sounds patriotic."
Hiding booze in food does sound pretty American to us. The ladies claim it's not that hard to make, and you'll only need a few things: two gummy bear molds, some gelatin, and a little sugar. "If you're like me and want to keep them boozy, make sure you monitor it closely with a candy thermometer," Pinney shared in the blog post. Hell to the yes we want them boozy. According to the recipe goddess, "to retain the alcohol, it needs to stay at 90 degrees or below."
Temperature is key to making your gummy wine dreams a reality. We haven't hit the test kitchen yet, but the "Cooking With Janica" ladies have already tried out all of their wine-infused snacks. "I think they truly turned out to be tasty. The red wine gummy bears were my favorite, while Janette was rather fond of the Rosé," Pinney said. The ladies also had some great ideas for additional flavors like champagne-infused gummy bears that we can't wait to try out. If you make 'em, be sure to mark your treats with an "Only For Mommy" label, so you don't find the kids red-lipped and giddy.
The ladies behind the recipe also made a handy video showing you exactly how to make the wine gummy bears that you can watch below.
Don't forget: "THE MOM CLUB: 10 Stories to Make You Feel Like a Better Parent."
This article was originally published on