Wine Bottle Pool Floats Are The Boozy Summer Accessory You Need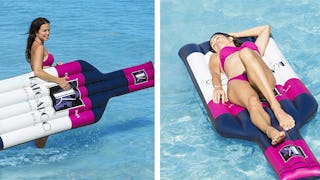 Image via Kangaroo Pool Floats/Amazon
Wine pool floats exist — you're welcome
There's a lot of good reasons to look forward to summer. For starters — no more winter jackets, your skin will look marginally more glowy, and the world will feel like a generally less bleak place. Perhaps the best part of the upcoming warm months? You can buy a wine-shaped pool float and drift through the water as your best, most boozy self.
Here's the deal with wine pool floats. They're cute, they're fairly inexpensive, and they'll make you look like the ~coolest~ person at the pool. No, seriously. Just take a look at THAT:
The floats are being sold for $29.95 on Amazon and come in both Sauvignon Blanc and Cabernet Sauvignon form (because you really shouldn't be forced to settle on a white when you're more of a red person). They clock in at 7.5 feet long and look like the perfect spot to take an uninterrupted mid-afternoon nap — except if you're a mom, in which case LOL. Not happening. But one can dream, right?
Sadly, it doesn't look like there are any places to store your actual wine while you're lying on the wine pool float, so you should probably go ahead and get chugging before you hit the water.
Now, if you're not really a Sauvignon person but still want to get that glitzy pool experience, there are a few other boozy options to choose from.
Like, HELLO giant margarita pool float. This one is over 6 feet long, made from "durable multi-color vinyl," and rings in at $24.99. Also, it has a salt rim and a lime, so I'm pretty much sold.
Or maybe you're more of a beer person — we all know sunny pool days (with kids, without kids — who's judging?) and a nice, cold beer go hand-in-hand. If that's the case, this pool float may be your new best friend.
If you're looking for something a little pinker and bubblier, there is also this enormous rosé bottle that is all kinds of adorable. It's $24.99 from Target, nearly 6 feet long, and will make you feel like a social media influencer. Bring on all the filters.
Now, go out there and live your best, booziest life possible. You deserve all the alcohol-shaped pool floats.