The Price Of Wine Is Dropping Fast — And Expected To Hit A 20-Year Low
by Leah Groth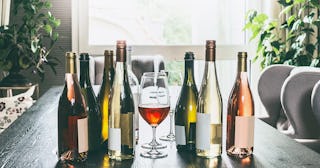 VICUSCHKA/Getty Images
Polish off those wine glasses because we will see the 'best wine retail values in 20 years'
Wine drinkers, get ready to stock up on your favorite bottles of vino because the price of wine is dropping fast. In fact, pretty soon, experts expect it will hit its lowest price levels in five years, mostly due to the simple economics of supply and demand.
"Today, the wine supply chain is stuffed," Rob McMillan, founder and author of Silicon Valley Bank's Wine Division writes in the recently published State of the U.S. Wine Industry 2020 report. "This oversupply, coupled with eroding consumer demand, can only lead to discounting of finished wine, bulk wine, and grapes. U.S. wine consumers will discover unprecedented retail value in 2020 and should buy up." According to McMillan, we will see the "best wine retail values in 20 years."
In case you failed economics 101, the model of supply and demand often sets prices. If there is a large supply of something and not much demand, prices will drop. If there is a huge demand, and not enough supply, prices will increase. Based on this model, prices usually set somewhere in the middle where supply and demand are equal.
In the case of wine, its main ingredient is grapes. On the supply side of the equation, there is currently a surplus of grapes in California, where most of the wine grapes in the world come from. This partially has to do with the fact that in 2016, vineyards in Northern California amped up their vine plantings and improved their harvesting methods. So, this year there are lots of grapes. As far as demand, apparently there has been a surprising decrease — meaning less people are drinking wine.
The expected surplus means that prices will drop, and wine drinkers can get more bang for their buck. Experts expect this cheap wine trend will last up to three years — so no better time to fill up that wine cellar.
While the drop in wine prices might seem like a great thing, the lack of supply is going to complicate things in the long-run. If there is not enough demand to absorb the increased production, grapes will go to waste, which might lead to some vineyards having to slow their growth or, worse, shut down.
"The main cause of oversupply today is the culmination of a few years of slowing wine shipment growth, with an ample 2018 wine grape crop as an exclamation point," Jeff Bitter, president of Allied Grape Growers told CNN. "Until 2015, wine shipments had grown, almost predictively, for two decades. The slowdown in growth has caught the industry by surprise."
Bitter continued to say that, because it takes up to five years to bring wine to market, it makes hitting future demand "very complicated," adding that "in this case, we overshot demand."
McMillan suggests that it will take at least two to three years for grape pricing to stabilize.
"With flattening consumer demand for wine, unless vineyard acres are removed, balance will be difficult to find," McMillan says. "Balance will first be found in Napa, followed by other premium regions in California."
So, why has demand for wine dropped for the first time in 25 years? Experts believe it has to do with millennials and their tendency to drink liquor and ready-to-drink cocktails, according to industry group IWSR.
McMillan explains that it is concerning that the younger generations haven't embraced wine, because "boomers who have driven wine sales for the last 30 years won't live forever." However, he does think that the expected drop in prices could lead them to become "more consistent wine buyers."
Regardless, take advantage of these lower wine prices while you can. Cheers!
This article was originally published on