10 Wine Supplies We Can't Even Handle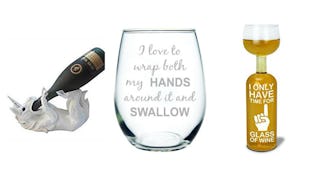 Walmart
Wine is fun on its own and all, but why not pump up your favorite adult beverage with some fun paraphernalia? Here a list of some boozy accessories you and your besties need as soon as freaking possible:
Unicorns like to throw back a bottle of wine too. We love this unique holder that will look great as a centerpiece for your next party or girls' night. Or just sitting on your kitchen counter.
Do we wanna get tipsy? Hell to the yes, and these glasses made it so much easier.
Don't just put a cork in it. You bottle of wine deserves some glam, so try a high heel topper like this one.
Sometimes it's all about the doctor's orders. And by that, we mean Dr. Napa and Dr. Valley have spoken letting you know how much wine you need to consume each night for health reasons.
On-the-go wine glasses are a must have for your next camping trip, hiking adventure, or football game.
These labels are the perfect way to spice up a basic bottle of wine for a gift or your next party. Simply slap it on the coordinating bottle of wine and let your inner-Martha Stewart shine.
Talking in cursive is the new slurring your words and what better way to explain it than have it written across your juice glass?
When you only have time for one glass of vino, this is a huge timesaver.
Sure, a skull wine holder is great for Halloween, but we think you should leave it out all year long to keep others out of your precious adult beverage.
Because we all need a wine glass that can take the place of sending a sexy text when we are in the mood to swallow, right?
While stocking up on these must-haves for yourself, don't forget to treat the other wine lovers in your life.
We may earn fees from purchases made via links on this page and affiliated sites. All opinions are our own.
This article was originally published on