19 Ways To Keep Your Family From Going Bonkers During An Extended Break
by Karen Johnson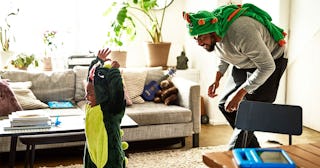 10'000 Hours/Getty
Okay parents, we are officially hunkering down for what seems to be an indefinite period of time. And despite having iPads and TV and toys and coloring books and crayons and movies and books, our kids are going to get bored. And when they get bored they fight with each other over whose farts are stinkiest and who touched whom with their foot and who ate the last package of fruit snacks. Also, even more fun, when they aren't fighting with each other, they are bugging you for snacks and begging you to make slime for the 831st time.
Do you need some boredom busters that don't include slime (because OMG make it stop) and YouTube? Activities that make your kids burn energy, maybe use their brains a little, and quit their incessant bickering? We do too.
So here's a pretty good list of ideas, most of which are free or inexpensive, and none of which involve the sounds of the Baby Shark Song or Ryan's Toy Review. You're welcome.
Energy-burning activities
1. Let your kids create an obstacle course or ninja training course.
Toss all the couch pillows, bed pillows, mats, hula hoops, and foam bricks you have into the middle of the room. Add some yarn or crepe paper for them to make a make-shift "laser" course to climb through. If your kids are old enough to do it safely and you have the room, they can use chairs and small furniture too. This one's sure to entertain them for a while (and tire them out).
You don't even need to get up for this one if you don't want to. Tell your kids to find a bunch of randomness—something red, something small and square, a piece of string, money, and three puzzle pieces. Or, if you have the time and energy, go hide a bunch of stuff, give them a list, and then let them have at it. (Pro tip: scavenger hunts are more fun in the dark with a flashlight!)
3. Tell your kids to write, choreograph, and act out a play or musical.
They can also make costumes and a set design and, of course, record it. (You'll be the audience, of course, so budget that into your day.)
4. Have an indoor snowball fight with rolled up socks.
Seriously, so much fun.
5. Tape games!
Got painters' tape or masking tape? Your kids are in for a good time. Check out these ideas on What Moms Love for a huge list of tape games, from creating a race car track on your floor or carpet to making a spider web across a doorway and tossing objects at it to get "caught" in the web. This list is amazing and will sure to keep your kids laughing and playing and out of your hair on a cold day.
6. Clear out the garage.
This is a big one for our very active five-year-old. Pretty much every weekend (and some afternoons after school) we pull both cars out of the garage and set up his hockey/soccer goals. Or we drag out his bike, scooter, or really any other active sports gear we can dig up. The garage is also a great place for the ninja/obstacle course, or to let your kids volley a tennis ball off the wall or hit baseballs off a tee into a net. The idea is to transform your garage into a makeshift "gym" or "backyard" in the winter when it's too cold to play outside and let your kids run, jump, sweat, play, and get dirty.
7. And when they're finally tired enough and need to calm down…
Make a fort, climb in and read a book with a flashlight, and drink hot cocoa. Boom. They're using their brains and you're getting fun parent points. #winning.
Get creative! Time to make some stuff.
8. Make some fun snacks.
Did you know you could make ice cream in a bag? Or indoor s'mores? How about homemade, authentic hot chocolate by melting chocolate bars on the stove? You can. And your kids will love it.
9. Make crafts that won't destroy your house.
Homemade bath bombs, water balloon marbles, snow globes, and play dough fossils like these are always a hit.
10. Organize a Lego building competition.
Have a giant pile of Legos that you're tired of staring at and no one ever picks up? Tell your kids to park their butts right there, grab a handful, and get building. Maybe they have ten minutes to create a house, or a car, or a castle. Then building something else. Whatever it is, it's a masterpiece and it means fewer loose Legos lying around.
11. Play a traditional board game with a twist.
This "pipe cleaner" idea on Moms Collab is a great option for little ones who can't do traditional Pictionary yet, and it's super creative. How about charades but with a specific category, like only movie characters or only wild animals? Or, if you've got a bigger crew at home, give Reverse Charades a try.
12. Cook or bake something you've never had before.
A great boredom buster is hanging out in the kitchen and making something yummy. So crack open your old cookbooks. (Ha! Kidding. Use Alexa or Pinterest.) And cook up a new recipe—maybe try your cake baking skills and then decide if you'd end up on a cooking competition for best baker, or Worst Cooks in America. Either way, dreaming about Food Network fame is exciting.
13. Head outside.
Take a hike, build a nature fort, bury "treasures" in the and try to find them, paint rocks, or see who can be the first to spot a certain type of bird or come up with the most creative use for a stick. Your kids will have ideas. Just let their imaginations go.
14. Commit to going outside by putting your pics on social media.
Hashtags like #150hoursoutside motivate Facebookers and Instagramers to get some fresh air, no matter the weather.
Make family connections.
15. Write a letter.
Have your kids sit down with an actual pen and paper and write a real, handwritten note to grandparents, cousins, friends who've moved away, or penpals. Your kids will think it's the 1800s will probably be fascinated.
16. Research your family tree.
Ask Grandma where her parents were from. Google their hometown. Learn about the culture of your ancestry—what they ate, what they wore, what they did for fun, etc.
Have each family member create their own questions and answers that the rest of you have to guess. This one's guaranteed to create some good family bonding and lots of belly laughs.
Clean and organize the mess you live in.
https://www.instagram.com/p/BtEi2YgAwLy/
18. Time to KonMari up this place.
And, to get your kids on board, as they make piles of donations and/or garage sale items, brainstorm as a family which charity you could either donate the items to or donate a portion of your garage sale earnings to. And, because they're kids, let them also think about a cool new toy they could get with the money left over. See? Now they're more willing to purge!
19. Deep clean.
It needs to be done and you know it. So if you're stuck in the house and need something to do, blast some Justin Timberlake, give every kid a "job" like scrubbing baseboards, or dusting end tables, and make it a game. Set a timer and switch activities every 20 minutes. Or make it a race or contest. (I'm not opposed to encouraging a little sibling rivalry if it means my damn house gets cleaned.)
So there you have it—more boredom busters than you know what to do with. In the end though, "The Floor is Lava!" is still just as fun as it was when were kids. It burns some energy, doesn't make a huge mess, and usually gets my kids to stop fighting for at least a solid ten minutes. And it's bliss, people. BLISS. So what if they stomp all over my hand-embroidered family heirloom throw blanket. At least they aren't asking me for snacks or making slime! I'll take it.
This article was originally published on